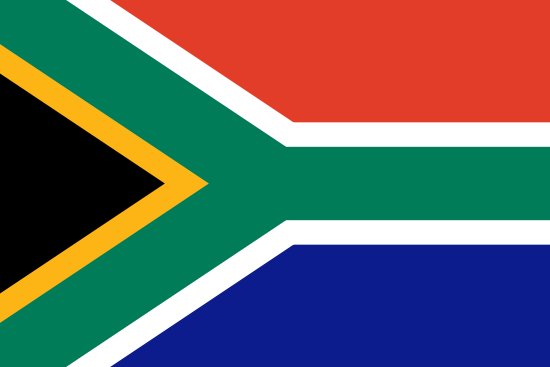 Gambling in South Africa has a rather interesting history and thanks to the many gaming enthusiasts in the country, the gambling scene has begun to change and improve. If we take a look at the results of a research conducted by the National Centre for the Study of Gambling in South Africa, we will see that about 80% of the people who participated in the analysis have gambled at least once in their life. The main reason for this high percentage is the fact that South Africans often play the lottery rather than betting at sportsbooks. This is not surprising at all, considering that until 1996 almost every form of gambling was strictly forbidden in the country.
Nowadays, the gambling situation in South Africa is different and the country regulates sports betting on fixed odds and betting exchanges, casinos, poker, bingo, horse racing and lotteries. While both land-based and online gambling is allowed in the country, virtual operators must apply for a license and offer their services only after obtaining a valid one.
While a rather large portion of the gamblers in South Africa prefers casino games, sports betting and horse racing are also quite popular in the country. Many bettors are also enjoying the convenience of betting in the comfort of their homes and have switched to virtual sportsbooks. This gives them the freedom to bet on their favorite sporting events and enjoy better payouts thanks to the promotions bookmakers offer.
Legality and Regulation of Sports Betting in South Africa
The National Gambling Board is the authority that has taken over the regulation of gambling in all nine territories of South Africa. Each of these territories has its own gambling and racing regulatory bodies and can issue licenses to online betting operators. The National Gambling Board is always taking strict measures to prevent illegal gambling and participates actively in the regulation of the gaming industry in South Africa.
If you are wondering which online sportsbooks conduct a fair virtual betting, then you should be familiar with the nine territories in South Africa which are eligible to grant sports betting licenses. The total number of licenses that can be issued to interactive operators is 40 and it is the National Gambling Board's duty to decide how to distribute them between the nine regions of South Africa. Currently, the biggest licensing board among all nine is the WCGRB which stands for Western Cape Gambling and Racing Board.
In addition to the WCGRB, the rest of the gambling and racing boards in South Africa are located in Eastern Cape, Free State, Gauteng, KwaZulu-Natal, Limpopo, Mpumalanga, Northern Cape and the North West. While recreational bettors are not required to pay any taxes, those who enjoy betting on horse races will be charged with a 6% fee on all of their winnings. It should be noted that online betting in South Africa is illegal, unless it is done at licensed operators who are allowed to provide their services by one of the nine licensing authorities in the country.
Key Sports Betting Laws
It was only after 1996 that the gambling scene in South Africa changed. Before that, all types of gambling was illegal in the country. The only exception was horse racing as it was regarded as a sport where the outcome depends not only on luck but it is also a matter of skills.
Before the introduction of the changes in the legislation of gambling in South Africa, there were the so-called independent homelands which were also collectively known as TBVC. These were the regions of Transkei, Bophuthatswana, Venda and Ciskei which were granted independence from South Africa. In these territories, gambling was legalized and this has led to numerous casinos operating within these regions. In 1994, after the changes in the policy of South Africa, these territories were yet again integrated into the country. Despite the ongoing gambling restrictions in South Africa, however, the casinos in the TBVC territories were still licensed and allowed to provide gambling services.
According to the Gambling Act of 1965, any type of gambling, except for bets on horse races, was illegal in South Africa. The aforementioned Independent homelands started licensing casinos towards the late 1970s. In a couple of years after the country's democratization in 1994, the National Gambling Act of 1996 was passed. It allowed the licensing of casinos and sportsbooks and it also introduced the national lottery. According to the new act, horse racing was also legal on the territory of South Africa. As you can see, the National Gambling Act of 1996 was the pivotal point for the gambling industry in the country.
Along with the act, the National Gambling Board was also formed as the authority responsible for the regulation of the gambling industry in the entire country. Although the Act of 1996 did change the gambling situation in South Africa, there were still some obstacles to be overcome. In 2004, the National Gambling Act announced interactive gambling as illegal. Thankfully, sports betting was not included in the ban. This means that South African bettors can enjoy online betting on horse races and various sports, as long as they are betting at licensed operators.
In 2010, some amendments to the act were introduced which also proclaimed gambling at foreign sites illegal. Still, sports betting fans can bet at remote sportsbooks, provided they do not offer any other forms of gambling which are prohibited by the National Gambling Act of South Africa.
South Africa Sporting Events Coverage and Markets
While any form of betting was illegal for many years in South Africa, with the introduction of the National Gambling Act in 1996 everything changed. Ever since it was enacted, sports devotees have the freedom to place bets on their favorite teams, players and major sporting events. With the developments in the betting industry, online sportsbooks have become pretty popular among South African bettors. Since the nine territories in South Africa are allowed to issue licenses to home-based operators, there are over 30 trustworthy local sportsbooks where punters form South Africa can place bets on various sports and horse racing. Live betting is also an option that bettors can enjoy at their favorite virtual sportsbooks.
The best part of betting online is that punters are presented with great odds on various sports. Despite that, there are still some betting markets which are preferred by South African punters. Taking into consideration the fact that even before the major changes in the legislation of the country, horse racing was the only form of betting that was allowed, it is no surprise that this is a popular betting market online. No matter which is your interactive bookmaker of choice, you will notice that it will present great odds on major horse races from all around the world. Bets on races in the UK and the Republic of Ireland, as well as various international races, are offered at the majority of reputable South African sportsbooks. It should be noted, however, that winnings on horse races are charged with a fee of 6% which means that punters cannot enjoy their full payouts.
Another popular sport that South African betting devotees enjoy is football or as the punters in this part of the world call it, soccer. Just like in many other parts of the world, soccers is also very popular in South Africa. This is why it is one of the biggest betting markets in many local sportsbooks which allow punters to place their money on major soccer games and popular teams and players. At the majority of South African bookmakers, fans of the sport will be able to find odds on events from leagues such as Champions League, Europa League and UEFA Nations League.
Rugby is yet another sport that South African bettors enjoy betting on. This is why it is a sport you can find at any great local virtual sportsbook. As a top betting market, it offers odds on major rugby tournaments such as World Rugby Sevens Series, French Top 14, Super Rugby, European Championship Cup and other popular rugby matches. Rugby specials can also be found at numerous interactive sportsbooks which further expands the betting options of South African bettors.
Tennis is also a sport with many fans in South Africa which explains the various tennis betting options that home-based sportsbooks are offering. Thanks to online bookmakers, South African punters can follow and bet on various games throughout the entire tennis season. Major matches from tournaments such as the WTA (Women's Tennis Association) and the ATP (Association of Tennis Professionals) are constantly covered at the betting markets that reputable South African bookies are providing. In fact, the majority of local sportsbooks are offering odds on both major and smaller tennis games since the sport is definitely favorite to South Africans.
Yet another very popular sport in South Africa is cricket and it can be found at every local sportsbook, designed to please punters from the country. One of the reasons why this sport enjoys massive popularity is due to the fact that in 2012, the national cricket team of the country was the first one to rank number one in all three cricket formats. Thanks to the large cricket fanbase in South Africa, punters can bet online on major events from tournaments such as Test, One Day International or Twenty 20.
Popular Odds Format in South Africa
While South African punters can choose between betting at local or foreign online sportsbooks, the format of odds may differ in every site. Typically, there are three main formats that can be seen at sportsbooks across the world. Those include decimal, fractional and American odds.
The decimal odds are often referred to as European odds as they are popular at many European countries. While some punters have their own preferences, most betting enthusiasts consider the decimal format for the most convenient one as it allows the easy calculation of any potential profit. Decimal odds can also be seen at Australian, New Zealand and Canadian sportsbooks. Whenever you are seeing odds that look like 1.50, 3.00, etc., you can be sure that the bookie is using decimal odds.
The other odds format that is commonly used at sportsbooks is the fractional one. It is mainly popular among the UK and Irish bettors and it also provides an easy way to estimate one's potential payout. If we take the decimal odds of 1.50 and convert them into fractional ones, the odds would look like 1/2. The number on the right side shows the amount of the bet, while the left side expresses the payout amount this bet would award.
The American odds, as their name suggests, are mostly used at sportsbooks for American punters. They are expressed either as a negative or a positive number. If the odds look something along the lines of -200, this would mean that a bet of $200 would award a win of $100. Meanwhile, odds of +200 mean that a winning wager of $100 would award punters with $200.
In South African sportsbooks punters will notice that the odds format which is used is similar to the decimal one. It is in fact, the one which is popular in Hong Kong. While typical decimal odds would look like 1.85, at the South African bookies the same odds will be most often expressed as 0.85. While European odds express the total amount of the return that includes the punters' bet, the second variation of decimal odds shows only the net profit that a winning bet would bring. In both cases, a bet of R100 would reward R85 but it is expressed in a slightly different format at South African betting sites.
Payment Solutions for Sports Bettors from South Africa
When it comes to managing one's bankroll, South African punters will have no issue making fast and safe deposits and withdrawals at local sportsbooks. Thanks to the advanced encryption technology that the majority of the betting sites utilize, the funds and personal information of punters are always properly protected. Most of the local virtual bookmakers allow their members to use ZAR as their currency which allows easy payments for South African bettors.
One of the most popular payment methods that can be used by South African punters is a credit or debit card. Since cards issued by Visa or Mastercard are a commonly used payment solution, they can be utilized at almost every virtual bookie that accepts bettors from South Africa. Debit and credit cards allow instant deposits which give bettors the freedom to start betting as soon as they top up their sportsbook balance. One of the biggest advantages of utilizing credit or debit cards is that they can also be used for withdrawals.
Resorting to e-wallets is also a commonly used payment method at South African sportsbooks. Usually, betting sites allow their members to use digital wallets by Skrill, Neteller or ecoPayz. This solution allows instant deposits which are perfect for those who are eager to place real-money bets on their favorite sports. What is more, e-wallets ensure secure transactions and spare punters the inconvenience of sharing credit/debit card or bank account details. Whenever punters are looking for an easy and fast way to cash out their winnings, they can also rely on their digital wallets. In fact, many bettors prefer using e-wallets for their withdrawals as they ensure quicker transactions.
In addition to the aforementioned payment methods, there are many home-based sportsbooks which support a banking solution, specifically designed to fit the preferences of South African punters. Thanks to the service of Easy EFT, numerous bettors from the country will be able to boost their betting balances instantly. Easy EFT serves as a mediator between one's personal bank account and the sportsbook where they play. This eliminates the need of exposing any banking details and, at the same time, allows safe deposits to the sportsbook of your choice. Easy EFT can also be used for withdrawals at numerous South African bookmakers but it does take a couple of days to receive your winnings.
Yet another payment method, designed to allow hassle-free payments to South African punters is SID Instant EFT. Bettors can use their existing online banking account in order to make immediate deposits at the sportsbook where they bet. Thanks to SID Instant EFT, their funds will be transferred in no time and they will be able to make real-money bets right away. The payment solution can also be used for withdrawals and the waiting period may take up to 2 days.
Bonuses and Rewards for South Africa Sports Bettors
One of the biggest advantages of betting online is that most of the reputable sportsbooks offer great incentives. South African punters are also among the betting fans who can enjoy wonderful bonuses and promotions and make their experience more lucrative.
Often new members of sportsbooks are rewarded with a Welcome Bonus. It usually requires a certain minimum of deposit that newcomers must make for the first time. Some bookmakers are also offering match bonuses for their regular members. Whether it is a Welcome offer or a match bonus that requires regular punters to make a certain deposit, there are always terms and conditions that apply to this type of promotions.
One of the most important things that punters must pay attention to before claiming a certain bonus is the wagering that must be done. More often than not, sportsbooks require their members to stake the bonus they have received a certain number of times. What is more, there is a set minimum of odds to bet on when staking the bonus. There is also a promotional period within which these wagering requirements must be met. Only after completing the bonus wagering, will punters be allowed to initiate a withdrawal of their funds.
It is definitely worth it to regularly check the incentives that sportsbooks are providing as there also might be promotions that offer enhanced odds, Free Bets or refunding of stakes. This way South African bettors can also make their betting experience more thrilling and rewarding.
Customer Support at South African Sports Betting Sites
One of the most important things that top-notch sportsbooks must offer is proper Customer Support. If you are making sporting bets at a reliable website, you will notice that it is extremely easy to enjoy a smooth and entertaining experience. The majority of South African bookies have made sure that bettors can easily find detailed information about questions most punters often have.
In addition to that, any reputable sportsbook offers several options to contact the support team and resolve any issue in a timely manner. Thanks to the live chats that most betting sites offer, bettors can ask any question they might have and receive a proper answer in no time. In addition to that, many sportsbooks also offer the option to contact them via email. Whenever you have questions about your betting experience, you can send them to the site's email address.
South African bettors often can make use of the option to call the numbers that many local sportsbooks are offering. This way punters can directly speak to representatives of the site and receive the information they are looking for.