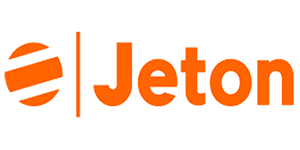 Launched in 2017 and headquartered in the United Kingdom, Jeton is a representative of the new generation of electronic wallets, enabling swift and secure online transactions. Along with the innovative digital wallet solution, the brand also offers a digital voucher card and a native app, allowing customers to initiate payments and withdrawals on the go.
The e-wallet solution has been developed to answer the financial needs of both private and business clients. The brand proudly states that the number of happy customers it is privileged to service is currently well over 700,000, across more than 100 countries.
Jeton is a one-stop solution, catering to the needs of an ever-growing number of sports betting fans across the globe. They might be interested to know that as of 2020, the company is the official e-wallet partner of West Ham United.
This innovative e-wallet supports over 50 different currencies, minimizing its customers' conversion expenses to a great extent. Furthermore, the brand has incorporated more than 70 payment options, which vary depending on the users' country of residence.
The customer support of Jeton is available round the clock, leaving not a single issue unresolved. Besides, the Help section and the Blog are sufficiently informative, delivering comprehensive information on major topics.
Taking into consideration the fact that Jeton is a relatively new company with an impressive number of customers from around the globe, we cannot help but conclude that it is obviously doing something right. Registered as an E-Money Institution Agent and regulated by the Financial Conduct Authority, the payment processing company delivers an extraordinary level of security.
If you are interested in the brand and how it can facilitate your financial transactions to and from online bookmakers, you are welcome to read our in-depth review, including the main characteristics, range of products, fees, strong points, and weaknesses.
How Jeton Functions?
Similar to the way other e-wallet solutions function, Jeton customers do not reveal any of their sensitive banking information to sports betting operators and other online merchants. Bettors who are reluctant to share this information will find out that the method completely meets their requirements for safety and anonymity.
To be able to use the brand's range of products and functionalities, users should first complete the registration process. It is smooth and frictionless, taking no more than several minutes to accomplish. The account verification might take a bit longer, but it is a necessary step along the way.
Next on your to-do list should be the uploading of funds to your new digital wallet. The payment company delivers a diverse array of options for topping up the wallet, which we will review in greater detail later in this review. Each deposit option involves different fees, upper, and lower limits.
Once fans of sports betting finalize their registration and load funds to Jeton, they should sign up with a bookmaker and transfer the funds to their sports betting account. The money transfer from your Jeton account to your sports betting account is instantaneous, and bettors may start wagering immediately.
The reverse process, withdrawing from your sports betting account to your Jeton e-wallet is also possible, provided that the bookmaker supports the payment solution as a viable withdrawal method and bettors have a sufficient balance to withdraw.
Jeton's line of products has been developed with the purpose of meeting its customers' needs, no matter if it is sending, receiving, or exchanging money. The payment platform supports an impressive range of more than 50 currencies, allowing its customers to bring their conversion expenses to a minimum. Customers are able to handle their financial transactions from their phones or other mobile device.
Opening a Jeton Account
Available both to private individuals and business entities, Jeton ensures fast and secure transfers. Sports betting aficionados are welcome to review the easy steps to opening a personal Jeton account. Once they load the website, they are supposed to click the Create Account field.
The registration process begins with choosing the international dialing code of the country they reside in and typing their phone number. They should make sure they enter the digits correctly, as the company sends in a code to verify the number.
What follows next is filling in information about the e-mail, creating a password, as well as entering your first and last name, and finally, the date of birth. The password should contain from 8 to 50 characters, including at least one letter and one non-letter character, an uppercase, and no special symbols.
Afterward, users should fill in their address details, including their country of residence, city, and postcode. Then, they are supposed to tick the field confirming they have read and accepted the terms and conditions and the privacy policy of the company.
To finish the registration process, click on the Register button. Additionally, users should enter the code sent to their number to verify the newly-created account.
The number of currencies supported by Jeton is outstanding – there are more than 50 currencies to choose from. Some of the more popular options of this multi-currency wallet include EUR, GBP, USD, AUD, BRL, and CAD.
To keep up the high standards of mobile compatibility, Jeton has developed an app compatible both with Android and iOS devices. The app features a simplified, user-friendly interface, allowing customers to manage their funds in a hassle-free manner. The company regularly updates the app to ensure maximum ease of use and security.
Jeton Account Verification
Now that users have completed the registration process, they should also go through account verification. It enables them to initiate transactions.
Furthermore, account verification is a mandatory procedure, which payment processing companies are supposed to perform. Operating in accordance with the measures and regulations imposed by the UK Financial Conduct Authority, Jeton adheres to all necessary security precautions.
The procedure involves identity verification, which is done by the provision of a passport or a driver's license. Additionally, address verification is required, and users can send a copy of their utility bill, or bank statement.
Users of Jeton should be aware that whenever they log in to their account, they will be required to enter an additional security code. Along with the e-mail and password, they are supposed to enter the 2FA code they receive on their mobile phone. This security tool is an additional layer of protection.
Logins with a QR code are another way to access your account. They are simply done by pointing your phone's camera at the QR code and tapping the banner that appears on your phone's screen.
Users of Jeton should also be aware that due to security reasons they are entitled to create only one personal account. However, it is possible to associate more than one bank account with your Jeton account.
Funding Your Jeton Account
Funding your Jeton account is possible right after the verification procedure. Fortunately, Jeton delivers a wide array of funding options, including 70+ different methods, varying in accordance with the country users reside in. Some of the available deposit methods include debit cards, bank transfers, instant bank transfers, JetonCash, and cryptocurrencies, among others.
The company has taken the effort to create detailed tutorials on how to deposit money to the e-wallet for customers based in Turkey and India. Customers of the brand will be glad to know that tutorials for other countries are coming soon.
Using instant banking to fund your Jeton account is a fast and secure option. You just need to have a bank account with any of the participating banks and sufficient funds in it. The steps are easy and logical.
Once you have logged in to your Jeton account, you should navigate to the deposit section and choose an Instant Bank Transfer. Then you will be redirected to instant banking where you should pick your bank from the drop-down menu. Once you are redirected to your bank's website, you should enter your logins and confirm the amount that you wish to deposit to your Jeton e-wallet.
Alternatively, users may be interested in funding their Jeton e-wallets via a credit or debit card. For this purpose, they should go to the deposit section and select the card they wish to use. The next steps involve entering the card's CVV code and the amount that needs to be transferred.
Yet another method for funding your e-wallet is via a Jeton card. The latter is a virtual pre-paid voucher-based product that can be purchased from a wide network of merchants all over the globe. Once users go to the deposit section and opt for the Jeton Card, they should enter the card's number, security code, and date of expiry.
The above-mentioned deposit methods are instant and punters are able to proceed to transfer the funds to their sports betting accounts.
Depositing to Your Sportsbook Balance with Jeton
Finding sportsbooks that support Jeton as a possible deposit method is quite easy, as is the process of topping up your sports betting account. The number of reputable sports betting operators who embrace Jeton and include it in their list of supported payment processors is constantly rising.
If you have not already signed up with a Jeton-friendly sportsbook, you should do so and continue with your first deposit.
Once you have logged in to your sports betting account, you should search for the Cashier section and browse through the possible deposit methods to find the Jeton e-wallet. After you select the method, you will be redirected to your Jeton account where you need to enter the amount you wish to deposit. As a final step, users are supposed to confirm their deposit by clicking on a verification pop-up screen and entering the code they receive via an SMS.
As for the timeframes for deposits, they are typically momentarily processed and punters can start wagering their funds.
While some sports betting operators accept smaller deposits, the minimum amounts are most commonly set at €10 or €20. Deposits initiated via Jeton make no exception. Maximum amounts through this method usually reach €5,000 per transaction.
Of course, sums tend to vary with different bookmakers and bettors can usually check the lower and upper limits in the Cashier section of the operator.
Withdrawing from Your Sportsbook Balance with Jeton
In addition to depositing, Jeton can also be utilized for cashing out your accumulated sports betting winnings. The reverse process involves the same steps as those we have already outlined in the previous section of the current review.
To withdraw their balance from online sportsbooks, bettors should go to the withdrawal section of the Cashier and select Jeton's logo. Check the available balance and type the amount you wish to withdraw. To confirm the transaction, you have to fill in the code received via SMS.
While deposits via Jeton e-wallet are instantly processed, bettors should be aware that withdrawals take a bit longer. This is usually due to the verification procedures that sportsbooks are obliged to perform especially when bettors request withdrawals for the first time.
The necessary time for the verification procedure varies in length from one bookmaker to another. As a whole, the average timeframes are between 24 and 48 hours. The exact information is normally available in the FAQ section or the Cashier. If bettors are not able to find it there they can always reach out to a customer representative.
Costs and Fees
Jeton e-wallet is preferred by plenty of punters as it enables cost-free deposits and withdrawals from sportsbooks. However, there are certain fees that customers of this payment processing company might be interested to know about.
The Fees and limits section of the website contains extensive information, divided into subsections for EUR, GBP, TRY accounts, as well as accounts made in all other available currencies.
As far as EUR account holders are concerned, payments made via bank transfers, instant bank transfers, cryptocurrencies, credit/debit cards, and JetonCash are free of charge. Using local payment methods involves fees varying between 0% and 2%, depending on the selected method.
As for the minimum allowable limits for local payment methods, instant bank transfers, and credit/debit cards, they are set to €10. The maximum limit for local payment methods and credit/debit cards reaches €1,000, while the one for instant bank transfers totals €10,000.
Deposits via bank transfers can be performed, as long as the minimum amounts equal €20, and the maximum ones – €15,000. Deposits through cryptocurrencies require minimum amounts of €50, and maximum amounts should not exceed €250,000. JetonCash deposits can range between €1 and €250.
As for withdrawals, EUR account-holders can use bank transfers and JetonCash for free, while cryptocurrency withdrawals are handled against a fee of 1%. The allowable amounts for withdrawals via bank transfers range between €50 and €15,000, those via cryptocurrencies – between €350 and €15,000, and the ones via JetonCash – between €10 and €250.
For transactions involving currency exchange, the applicable rates and fees vary and are clearly stated before customers approve the transaction. The maximum allowable limit for EUR and TRY exchange transactions is set to 100,000, while for other currencies, it is 2,000.
The exact fees for other currencies depend on the available option within the relevant region and the customer's country of residence. They are transparently reflected for each transaction.
Security and Privacy
When it comes to digital wallets and financial operations as a whole, customers are keenly interested in the topic of security. Due to the reason that Jeton is licensed by the Financial Conduct Authority, it should comply with tight financial regulations, and the standards for identity verification are quite high. The company protects its customers via industry-leading secure payment systems.
Each customer of Jeton is supposed to pass a verification procedure, allowing the payment processing company to know its customers better, as well as protect them from unauthorized transactions. Furthermore, customers with verified accounts have access to the full range of services delivered by the brand.
Besides the strict regulatory authority, overseeing Jeton's operations and the demanding verification procedures, the payment service provider uses also encryption and two-factor authentication, also known as 2FA. The latter provides an extra layer of security because apart from password and email address, the login process requires an additional uniquely generated token, received via the mobile device of users.
Another standard that Jeton utilizes in order to create a particularly high level of security is payment card industry (PCI) compliance.
As per information posted within the FAQ section of Jeton, its services are restricted in some countries, including Afghanistan, Cuba, Iran, Iraq, Libya, and the Syrian Arab Republic, among others. Users are also able to check if their country of residence is included in Jeton's operation by simply navigating to the Sign-Up area and scrolling down the list of countries.
Jeton's support team could be reached either via email – team@jeton.com or through the live chat functionality, conveniently positioned in the lower right corner of the website. The reps are expertly informed, very friendly, and truly supportive. Additionally, the company has developed an extensive Blog section, delivering plenty of useful information. The website is currently available in 7 different languages, and the brand promises to add more.
Advantages of Jeton
Sports betting fans who have chosen Jeton to manage their financial needs get to enjoy plenty of advantages. In the following lines, we will briefly outline why you should rely on the brand.
Security

Licensed and regulated by the UK FCA, the payment processing company operates in strict compliance with the highest security standards within the financial industry, including 2FA and other cutting-edge IT solutions.

Flexibility

Firstly, with 70+ payment options at their disposal, customers of Jeton are spoiled for choice when it comes to funding their Jeton account. Secondly, the e-wallet is available in more than 100 countries all over the world. And last but not least, account holders may choose from more than 50 different currencies.

All these facts testify to the great flexibility of the company.

Cashback

All customers of the brand initiating payments with the e-wallet receive an instant cashback, amounting to 1% of the total amount of their purchase. The loyalty program encompasses every single payment and the cashback is applied to the customer's account balance. The earnings are in the currency of the respective purchase.

Accepts cryptocurrencies

Living in a new financial era, dominated by online payments, it is vital that Jeton supports deposits via a lot of cryptocurrencies, including Bitcoin, Ethereum, Litecoin, and Dogecoin, among others.

Other products developed by the brand

Apart from the revolutionary e-wallet, the company has also developed JetonCash, a prepaid voucher-based card, which can be purchased from an ever-increasing list of resellers around the globe. The card is supported in a number of currencies, including EUR, GBP, and USD, among others, and there are various denominations, reaching €250, or the currency equivalent.

24/7 customer support

To stay in line with contemporary customer service standards and to ensure maximum customer satisfaction, Jeton's customer representatives are available round the clock and can be reached via e-mail and live chat.
Disadvantages of Jeton
While there are many strong points of the Jeton e-wallet, there are also some negative aspects, which future users of the brand should be familiar with.
Pending verification

The verification procedures that Jeton performs may sometimes take a bit longer, making customers wait for the point of depositing funds to their accounts. Although annoying, the procedure is a mandatory step, required by the financial regulatory body, overseeing Jeton's operations. Furthermore, it is meant to enhance the customers' safety of personal and financial data.

Not widely available

Taking into consideration that Jeton is a relatively young company, it is logical that it is not accepted by many of the leading sportsbooks. This trend however is starting to change, having in mind that the company is a fast-paced one, expanding its markets very quickly.

Low maximum amount of the JetonCash card

Although it is nice to see Jeton expands the range of its products, we cannot oversee the fact that the maximum limit of the JetonCash card iс quite low – €250.
Conclusion
Ultimately, Jeton's global popularity is constantly rising as customers from the four corners of the earth are able to easily manage their transactions with just a few clicks. The incredible ease of use and the trustworthiness of the brand especially appeal to sports betting fans, allowing them to initiate instant deposits and fast withdrawals from sportsbooks. This e-wallet is a perfect tool to safely store your financial assets in a digital environment.
To ensure the maximum safety of its customers, the company applies cutting-edge security technologies. As the company gradually matures, new products are being developed, ensuring complete customer satisfaction.
Last but not least, Jeton's Cashback loyalty program is available to all customers. So, if you are looking for an innovative an reliable payment processing company, look no further, and hurry up to join Jeton.