iDebit Online Casinos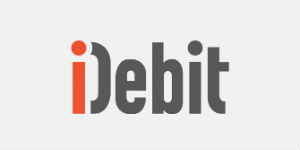 Exclusively available in Canada, iDebit is an online banking processor that enables local casino players to initiate money transfers directly from their personal bank accounts, eliminating the necessity of sharing sensitive financial information with gambling operators.
This highly convenient payment solution is supported by most online casinos that accept real-money players from the Great White North. To put it simply, iDebit functions as a mediator between the banks it partners with and their account holders.
The iDebit gateway facilitates safe and lightning-fast money transfers, with the deposited funds arriving instantly from users' bank accounts to their online casino balance. The method works just as seamlessly on smartphones and tablets, which renders it a perfect alternative for mobile-oriented online casino players.
If you are interested in using iDebit for online gambling transactions, you have come to the right place. On this page, we cover all the specifics of depositing and withdrawing via this method, along with its advantages and shortcomings.
Top 15 Online Casino Sites Accepting iDebit
How iDebit Functions?
The iDebit gateway acts as an intermediary between its associated banks and their customers, enabling users to initiate payments directly from their personal bank accounts. This allows for high levels of security and privacy as all transactions are processed within the users' trusted online banking environment.
To use it for gambling-related transactions, you must create an account at a partnering bank and subscribe to its online banking services. At the time of publication, iDebit is exclusively available to players from Canada and is yet to extend its reach to other territories. The gateway currently partners with eight supported Canadian commercial banks and banking divisions:
The National Bank of Canada
Scotiabank
The Royal Bank of Canada
The Canadian Imperial Bank of Commerce
The Bank of Montreal
Desjardins
The TD Canada Trust
Simplii Financial
Canadian players with access to the online banking services of the above-listed banks can start using the gateway immediately. There is no need to pre-register. Checking out as a guest during your first purchase is an alternative.
Only players who hold personal bank accounts can use the method provided that they are at least 18 years old. The online banking gateway is geared toward the needs of users from the Great White North, which is why it processes payments in the CAD and USD currencies only.
Another thing to bear in mind is that it is impossible to split payments between bank accounts when using this method. While you can pick which personal account to remove the money from, each purchase or casino deposit should be paid in full from the same bank account. Also, the official iDebit website features a demo that demonstrates how the payment solution works step by step.
Video Explaining How to use iDebit
Registering Your iDebit Account
As we previously explained, pre-registration is unnecessary during your first transaction with iDebit. Users have the option to check out as guests at the end of their first purchase. Those who choose the guest checkout can create accounts after they complete their first payment.
Signing up is recommended since registered users get to enjoy quicker checkouts on their subsequent online payments. The process is fast and hassle-free, barely requiring a couple of minutes of your time. The gateway will prompt you to provide some of your personal and contact details, including your first and last name, email address, and postal code.
The next step involves entering your home address, city, and province along with your date of birth and the last four digits of your social insurance number (SIN). The SIN number is necessary so that the system can verify your identity and ensure you meet the minimum legal age for using the iDebit services, which is 18.
Then you choose a password and you are good to go. By logging into your iDebit profile, you can conveniently keep track of your entire payment history and access your transaction limits. Users must also register their personal bank accounts by entering the bank information found on their personal checks.
If needed, you can easily update your residential address and banking information by contacting the iDebit team at security@idebitpayments.com. Just keep in mind they will ask you to provide some documentation, including your ID, passport or driver's license, a void check, and a recent utility bill as proof of address.
Depositing to Your Online Casino Balance with iDebit
Players who have used online banking to top up their online casino accounts will experience no issues when depositing with iDebit for the first time. The process involves several simple steps and is instantaneous, allowing you to start gambling with the deposited funds right away. This is how it works:
You log into your casino account and open the cashier where you must select iDebit as your deposit method of choice.
You then type in the amount you wish to transfer from your online banking account to your casino balance. Make sure the sum fits into the minimum and maximum deposit limits of the gambling site or else the transaction will not go through.
After you click or tap the deposit button, the system will redirect you to the iDebit login page to complete the payment. You can finalize the transaction as a guest or as a returning user provided that you have already set up your iDebit account.
If you choose the second option, you must log in with your email address and password to access the iDebit account.
During the next step, you must select your bank from the dropdown menu. Provided that you check out as a guest and you notice your bank is not on the list, you can always cancel the payment and opt for another deposit method.
Once you choose a bank, you log into your online banking account with your user ID and password. There is no need to fret over security as your banking credentials remain private between you and your bank. With iDebit, no personal information is shared with the online gambling operator.
Finally, you must review the details of the transaction and approve the payment. Any additional processing fees associated with the money transfer will be clearly displayed. The online casino will receive immediate confirmation of your deposit.
Withdrawing from Your Online Casino Balance with iDebit
Withdrawing your winnings with iDebit is also possible at some online casinos but players must register iDebit accounts for this purpose. They can deposit as guests but the method does not facilitate guest withdrawals.
Due to regulatory requirements, the vast majority of online casinos oblige players to withdraw via the same methods they originally used for depositing. The practice aims at hindering illicit activities such as money laundering. There is a good chance your online casino will set iDebit as your default withdrawal method if you have initially used it to top up your balance.
With that clarification out of the way, cashing out with iDebit works similarly to replenishing your balance.
Navigate to the withdrawal section of your casino's cashier and select iDebit as your chosen withdrawal method.
Confirm the transaction after you determine how much you wish to cash out from your balance. Again, you must comply with the minimum and maximum limits put in place for individual transactions.
You may have to undergo additional verification upon requesting more substantial payments. When this is the case, the casino's financial department will ask for some documentation to verify your account before releasing the requested funds from your balance.
Once the casino processes the withdrawal, the money will reach your iDebit account almost immediately. Then you should sign in and transfer the funds to your bank account. Bear in mind you may have to provide some additional bank account information if this is your first time withdrawing money via iDebit. It can take up to 5 business days until the money reaches your bank account.
Many online casinos allow customers to reverse their withdrawals, either partially or in whole, as long as they are still being processed. Others use manual flushing whereby the requested funds are locked into the customer's account during processing and reversal is impossible. We recommend against withdrawal reversals if you are easily tempted to continue playing with your winnings.
iDebit Cost and Fees
Most online casinos shortlisted on this page facilitate instant and free deposits with iDebit. However, using this method is still associated with some additional fees, albeit very nominal ones.
Registering an account with iDebit is completely free. The same goes for making payments directly from your iDebit balance. Transferring funds from your online casino balance to your iDebit balance is also free of extra charges.
Initiating a deposit straight from your online banking account will cost you $1.50. Moving funds from your iDebit balance to your personal bank account is associated with an additional fee of $2.
Other than that, iDebit users are responsible for covering any potential fees imposed by their merchants or banking institutions under the method's general terms and conditions.
When in place, the fees will vary from one financial institution to another. You may want to consult with a representative of your bank for further information on any such charges.
Customers of iDebit are eligible for refunds in cases of declined, refused, or erroneous payments. Such users must provide the payment processor with all necessary information to have their money refunded, including the name of their bank and their account or routing number.
Those who decline to share these details will have their money refunded via money orders or checks sent to the address they have registered for iDebit with. Such users should anticipate additional refund fees of $25 per money order or check.
The iDebit system does not impose monthly charges on inactive customers as far as we could tell. Accounts are automatically terminated if users have not accessed them for a period of five years. Pending refunds are forfeited in favor of iDebit when an account has remained inactive for a period of two years.
Security and Privacy
One of the biggest advantages of using iDebit for online gambling transactions has to do with the high levels of security it guarantees. The gateway serves as a bridge between Canadian banks and their customers. While initiated through iDebit, the payments are processed via the online banking systems of the financial institutions and require bank authentication.
In other words, the players' details remain secure between them and their banks. After initiating a deposit, they are redirected to the bank's website where they log in with the same username and password they use to access their online banking accounts.
Personal and banking credentials are never disclosed to the online merchants, or online casinos in this instance. Users can have their peace of mind knowing that all communication with their bank is masked with state-of-the-art encryption. They must enter full login credentials and answer a security question to access their online banking accounts.
The iDebit website itself is also heavily encrypted with 128-bit SSL, not to mention the system does not retain any of your sensitive details when you use it for transactions. Money transfers are monitored at all times to detect potential fraud and unauthorized payments.
Finally, iDebit performs risk assessments on all information registered users provide to verify their identity, age, and payments. Users' personal and banking details are never shared with or rented to third parties.

Related Banking Methods
Advantages of Using iDebit
The benefits of using iDebit for online gambling transactions greatly outnumber the downsides. To begin with, you can deposit directly from your personal online banking account without being forced to share any sensitive information, such as the number of your credit card. In fact, there is no need to own a credit card in the first place.
Another benefit of banking with this method is that it is very quick and convenient to use. The deposit process is beyond simple. First-time users are not required to pre-register or go through a complicated signup process. Players have the option to check out as guests and register during their first casino deposit.
Speaking of deposits, iDebit allows you to top up your casino balance within seconds as it processes payments in real time. The deposited funds will instantly hit your account so that you can start enjoying your favorite casino games right away.
The method is broadly supported at online casinos that accept real-money players from Canada. There is no need to scour the internet to find a reliable gambling site that works with iDebit. Furthermore, many online casinos accept the method for deposits as well as for withdrawals, sparing you the hassles of having to look for alternative ways to cash out your profits.
With iDebit, you can anticipate no hidden fees as all fee-related information is clearly laid out on the official website. Signing up is free and so is making payments from your iDebit balance. Some iDebit services are associated with additional charges but the fees are nominal compared to those you will encounter with many other banking solutions.
Another positive of using iDebit for online gambling transactions is that players are unlikely to incur additional fees for currency conversion. Online casinos that accept this method typically support transactions in Canadian dollars. You have no reason to fear extra conversion charges if you choose CAD as the default currency of your casino account.
Disadvantages of Using iDebit
As convenient and flexible as it is, iDebit is not without its shortcomings. The biggest drawback of this otherwise great payment method is that it is available solely to casino players who hold accounts with Canadian banks.
What is worse, only eight financial institutions in Canada support payments via the iDebit gateway for the time being. If you are not a customer of a partnering bank, you will not be able to use the service even if you have Canadian citizenship.
On the positive side of things, Canadian players can deposit and withdraw via iDebit when they are traveling outside the country. Being physically present in Canada is not a prerequisite to bank with this payment method. You can use it as long as you have an account at a participating bank. With that said, it would be a smart idea to inform your bank you intend to use iDebit while abroad to spare yourself the hassles later on.
Back on topic, another disadvantage is that players will incur additional fees when using certain iDebit services. Extra charges are in place when you move funds from your iDebit balance to your personal bank account.
The same applies to depositing directly from your online banking account. However, this is nothing to cry about since the fees are nominal and significantly lower than the additional expenses you will incur when using other payment methods like Skrill, for example.
Another drawback that comes to mind is that with iDebit, it is impossible to split payments between several bank accounts for a single transaction. Each deposit must be processed in full from the same personal bank account. This works to the disadvantage of players who seek to process larger deposits at online casinos.
The withdrawal speed is another detriment players should factor in. Withdrawals with this method are typically instant after approval. The funds will hit your iDebit balance almost immediately after the online casino releases them but you need to move them to your bank account to actually cash out. This process can take up to five business days in some cases.
Conclusion
To wrap things up, iDebit poses as the ideal solution for real-money casino players who insist on flexibility, ease of use, and security. This convenient method is available at most Canada-friendly online casinos, so you will experience no issues with finding a gambling site that fits your individual needs and requirements.
Banking with iDebit is incredibly safe, fast, and cost-efficient for the most part. There are a few minor disadvantages of using this solution but they are generally nothing to cry about. As a closing remark, we hope iDebit extends its services to more banks and countries in the future, so that more casino players can benefit from its numerous merits.