Instadebit Online Casinos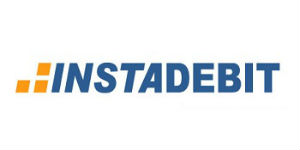 Instadebit is a popular payment method among people residing in Canada. It allows users to execute financial transactions safely and promptly. In addition, using Instadebit to make payments to online merchants is fairly easy and budget-friendly. Contrary to what many people think, Instadebit is not a digital wallet. It is an online payment getaway that allows users to transfer funds directly from their bank accounts.
Many online casinos geared toward the Canadian market have added Instadebit to their lists of banking options. The payment method was introduced in 2003 by a team of financial experts and has quickly grown to prominence because many people were frustrated by the fact that they have to share their banking credentials every time they want to make an online payment.
Instadebit is a trustworthy payment method that works with all banks based in Canada. Therefore, players who use this payment method to fund their casino accounts or cash out their profits can rest assured that their funds will always be safe. Instadebit acts as a mediator between merchants, consumers, and financial institutions.
Top 15 Online Casino Sites Accepting Instadebit
How Instadebit Functions?
Instadebit is a payment gateway that allows users to make real-time payments using the funds from their bank accounts. As mentioned above, Instadebit is not an eWallet, meaning that you cannot store funds in your Instadebit account. In other words, if you use Instadebit to fund your casino account, the money will be taken out of your bank account. The transaction will appear on your bank statement as INSTADEBIT.com or 1-877-88DEBIT.
Casino fans who have a bank account at any Canadian financial institution and are 18 years old or above can use Instadebit. A crucial thing to note is that only one bank account can be linked with Instadebit. As long as you have enough funds in your bank account and no currency conversion is required, then your payment will be processed instantly.
Speaking of currencies, we must mention that Instadebit supports only two currencies – CAD and USD. A convenient feature of Instadebit is that it allows players to keep track of their Instadebit transaction history.
The web-based casinos that accept payments via Instadebit are more than enough. Players who intend to use this payment method to fund their accounts are not required to expose any banking details. That is why Instadebit is one of the safest payment methods you can opt for if you reside in Canada. Moreover, you can start playing your favorite casino games on the spot as all deposits via Instadebit are processed immediately.
Instadebit's official site is fully optimized for mobile use. Therefore, players can use Instadebit to fund their casino accounts even on the go. Assuming you need assistance, you can rely on Instadebit's customer support representative around the clock.
Players must set up an Instadebit account to use this payment method for gambling-related transactions. Please note that you will be required to provide some bank account information and enter the last 4 digits of your Social Insurance Number (SIN) to confirm your identity.
Video Explaining How to use Instadebit
Opening an Account with Instadebit
Setting up an Instadebit account is a child's play. You can pre-register or create an account as part of your first casino deposit. No matter which option you will go for, the registration process is the same. You will have to provide your name, address, email address, date of birth, and the last 4 digits of your SIN. Remember that Instadebit will never require you to disclose your full SIN.
Since Instadebit is linked with your bank account, you will be required to provide some banking details, including the 5-digit bank transit number, 3-digit financial institution number, and 12-digit account number. This information can be found at the bottom of your checks. Your bank can also give you this information.
Instadebit will send you an amount less than $2 that will appear in your bank account within 1 to 5 business days. You will be prompted to enter the amount to verify your Instadebit account. Users whose accounts are not verified must comply with a system-generated spending limit that usually starts from $300.
If you want to change your name, email address, or bank account information, you will have to send an email to the security team at security@instadebit.com and send a copy of your driver's license, passport, or other government-issued ID. You may also be required to provide proof of address and a void check. Only one Instadebit account is allowed per person.
Depositing to Your Casino Balance with Instadebit
Instadebit is a preferred payment solution among casino fans residing in Canada. The truth is that many players are reluctant to share their banking credentials with anyone, which is understandable. But thanks to Instadebit, you can enjoy your favorite casino games without sharing any sensitive information. Topping up your casino account via Instadebit is a five-finger exercise.
The first step is to find a reliable gambling site that accepts payments via Instadebit. If you already have a casino account, visit the virtual cashier and select Instadebit as a preferred payment solution. Enter the amount you wish to deposit, and the system will redirect you to the Instadebit website.
Log into your Instadebit account, and you will see the details of the transaction. Approve the payment and the money will arrive in your casino account instantly. Players who do not have an Instadebit account should not worry too much as they can set up one during their first transaction.
Withdrawing from Your Casino Balance with Instadebit
Instadebit supports transactions both ways. In other words, you can use Instadebit to deposit funds and withdraw your profits. Most gambling sites employ the so-called closed-loop system, meaning that casino enthusiasts must withdraw their winnings to the originating deposit method. However, few web-based casinos do not allow players to pull out their winnings via Instadebit. In that case, players can cash out their profits via traditional wire transfers.
Cashing out via Instadebit is a walk in the park. Once you log into your casino account, navigate to the cashier and select Instadebit by clicking on the icon carrying the logo of the payment method. Enter the sum you wish to retrieve from your balance, sign in to your Instadebit account and approve the payment. After the web-based casino processes your withdrawal request, your winnings will be credited to your Instadebit account instantly. Each gambling site takes a different amount of time to process withdrawals.
After the money arrives in your Instadebit account, you can use them for new gambling adventures or make purchases in online stores. It is also possible to withdraw your winnings to your bank account. The minimum amount you can withdraw from your Instadebit account is $10, while the upper ceiling is $9,500 per 24 hours.
Players should know that Instadebit takes up to 2 days to process withdrawals. Once the payment is approved, the funds will reflect on your bank account within 3 to 5 business days.
Instadebit Costs and Fees
Instadebit is the perfect payment method for players from Canada who do not want to waste money on burdensome registration and maintenance fees. There are only two types of fees associated with this payment method. When you deposit funds from your bank account to your gaming balance, you will incur a fee of CA$1.95. Fortunately, players can avoid it if they use the funds from their Instadebit accounts (if they have any).
Most casino operators do not charge players for cashing out their profits via Instadebit. But casino fans who want to move their funds from Instadebit to their bank accounts will have to pay a fee of CA$2. Compared to other payment methods, the fee is very reasonable. But do not forget that some banks may charge fees for moving funds to and from your account.
As mentioned earlier, Instadebit supports payments in two currencies – USD and CAD. Finding a gambling site that processes payments in these currencies is not hard. However, if you choose a web-based casino that does not support CAD or USD, you will incur a currency conversion fee.
Security and Privacy
Since Instadebit is a gateway between your bank account and the online merchant, you will not be required to share your banking credentials with the web-based casino. Therefore, there is no risk of data leakage even if the gambling site gets hacked.
Moreover, the official site of Instadebit uses advanced 128-bit SSL encryption to safeguard its users' sensitive information. Furthermore, Instadebit stores its users' personal information in IDS's system, which is protected by firewalls and biometric authentication. Besides, VeriSign, a leading security certification firm, is responsible for monitoring your privacy and transactions.
Upon opening an Instadebit account, you will be required to enter the last 4 digits of your SIN and your date of birth. The payment service provider uses the information only to confirm your identity and protect you from fraud. The verification process is quite simple and adds an extra layer of security. As mentioned above, Instadebit will deposit a small amount of up to $2 to your bank account. You will have to enter the exact sum to verify your Instadebit account.
What is more, Instadebit does not require its users to have a credit/debit card. As you know, some banks block gambling-related payments. But with Instadebit, you will spare yourself this inconvenience.
Related Banking Methods
Advantages of Instadebit
Instadebit offers a myriad of advantages to its users. It allows players to deposit funds to their casino accounts without sharing their banking credentials. Moreover, if you feel uncomfortable with having a gambling transaction on your bank statement, Instadebit is the right payment solution.
Players do not have to disclose banking details
Protects casino fans from running into debt
Many reputable web-based casinos support Instadebit payments
Instadebit is a budget-friendly payment method
Offers round-the-clock customer support services
When you make an online payment via Instadebit, you use the funds from your bank account. If the funds in your account are insufficient to cover the translation, the transaction will be declined, meaning that you cannot spend more money than you have and become indebted.
Many web-based casinos that welcome players from Canada support Instadebit payments. Assuming you are on the lookout for a reputable Instadebit gambling site, you will never run out of options. If you fund your casino account via Instadebit, you can embark on an exciting gambling adventure right away as deposits are processed in the blink of an eye.
Instadebit provides casino enthusiasts with the opportunity to top up their accounts in a worry-free manner. Few methods offer such a straightforward deposit process. In addition, Instadebit also supports withdrawals. Casino fans will be on cloud nine to learn that most operators do not impose processing fees on deposits and withdrawals via Instadebit.
Instadebit users can rest assured that there is always someone who can help them to resolve any issues as the payment method provides 24/7 customer support services via live chat. Another advantage of the payment method is that it offers its services at an affordable cost.
Disadvantages of Instadebit
Although Instadebit has plenty of advantages, we also have to take into account its disadvantages. One of the most apparent weaknesses of the payment method is that it is focused solely on the Canadian market. This means that if you reside in another country, you will not be able to use Instadebit. What is more, the payment method supports only two currencies, including USD and CAD.
Withdrawals may take up to 5 days
Not all web-based casinos allow players to withdraw via Instadebit
Requires registration and verification of the account
Players can withdraw up to $9,500 from Instadebit to their bank accounts per 24 hours
Available only to players from Canada
Before you set up a casino account, ensure that Instadebit is among the supported withdrawal options. Some web-based casinos allow players to use Instadebit for their deposits only. Even cashing out via Instadebit is an option, it will take up to 5 business days before you can lay your hands on the money.
Players are required to set up an Instadebit account and verify it in order to use Instadebit for financial transactions. For some players, this is a time-consuming and redundant step. Another thing to mention is that the small deposit from Instadebit will hit your bank account within 3 to 5 days, meaning that you cannot verify your Instadebit account earlier.
Another negative aspect of the payment method is that players can withdraw up to $9,500 from their Instadebit balance to their bank accounts on a daily basis. What is more, players can link only one bank account with Instadebit. Therefore, casino fans cannot split deposits between two or more bank accounts.
Conclusion
Founded in 2003, Instadebit has established itself as a reliable payment method that caters to the needs of casino enthusiasts residing in the Land of the Maple Leaf. It has become the first choice of players looking for a convenient and cost-effective payment solution.
Instadebit supports transactions both ways. Although withdrawals are not as instantaneous as deposits, you can rest assured that you will get your winnings sooner or later. In addition, many reputable online casinos employ Instadebit and allow casino fans to deposit and withdraw for free. Even rookie players who have never played at an online casino before will experience no difficulties topping up their accounts and cashing out their profits via Instadebit.