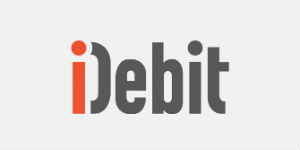 iDebit is a strictly Canadian payment method that serves as a secure link between a sportsbook and your bank account. It works only with Canadian banks, including the Big Five. Those are the five largest banks in Canada, namely – Bank of Montreal (BMO), Bank of Nova Scotia (Scotiabank), Canadian Imperial Bank of Commerce (CIBC), Royal Bank of Canada (RBC), and Toronto–Dominion Bank (TD).
This payment method offers its users the benefit of paying directly with their bank account funds which means convenience which in no way comes at the cost of security. The encryption of your bank further protects you and your personal details.
When it comes to sports betting in Canada, iDebit is certainly one of the top payment methods. It is fast, secure and efficient which is all you need to start betting. You can use iDebit to deposit in international sportsbooks and place single bets, which are impossible to make within the bounds of Canada. Placing a single bet in an online offshore sportsbook is entirely safe for you.
How iDebit Functions
You do not need to register to use iDebit. You simply need to provide your online banking details and you will be able to use it immediately as a guest. If you wish to register for the service permanently, you will need to provide some personal details.
In order to make a payment with iDebit, you need to log in or check out as a guest. Then, you need to select your bank from a drop-down menu and log in with your online banking credentials. After that, all you need to do is approve the payment.
Naturally, iDebit does not retain any of your banking credentials, regardless of whether you are a guest or not. No one can gain access to your banking credentials through your use of iDebit because every step of completing a payment with this method is SSL encrypted.
Of course, in order to use the services of iDebit, you need to first have an online banking account set up. The procedure for that is different based on the bank but it usually does not take more than a phone call to its customer service and a short process of authentication. All of the banks supported by iDebit offer this service.
Opening an Account
The sign-up process is quick and requires you to provide the following details – name, address, phone number, date of birth, the last 4 digits of a government issued ID number and an e-mail address. In some cases, you may need to provide similar details, mainly because of iDebit's policies when it comes to persons that are not of legal age. This means that if you are under 18 years old you will not be allowed to create an account and use the services of this banking solution. If you wish to receive payments via iDebit, you will also need to provide your payment information details.
It is entirely cost-free to open an iDebit account and once you have completed the registration process, you can start using it right away. It is important to note that, despite having created an account that contains some of your personal information, you will need to enter your banking credentials every single time you use iDebit to make a payment.
The reason for this is that iDebit does not keep such sensitive information. It only provides a secure connection to your bank account. You can rest assured that even after you register, the company will keep only the information that is essential to its provision of the services.
It is worth remarking that you will not be able to make withdrawals with iDebit if you do not create an account. The reason for this is that the funds you receive with iDebit do not go straight to your bank account – they first go to your iDebit account. Of course, you can withdraw them to your bank from that point on.
Depositing to your Sportsbook Balance
It is quite easy to deposit with iDebit, regardless of the sportsbook you have picked. You simply need to click on the iDebit option when depositing and you will be taken to the payment page of iDebit. As we already mentioned, it is SSL encrypted and thus your information will remain entirely secure.
By using iDebit you ensure that your banking information is not shared with the sportsbook of your choice. It remains hidden behind layers and layers of high-end encryption and once the transaction is completed, no one can gain access to the information you have provided.
Additionally, you can deposit funds that are already in your iDebit account. That way you avoid transaction fees and have an additional layer of security keeping all third parties far from your banking details. Do keep in mind, though, that you cannot deposit funds into your iDebit account – it can only be funded by receiving funds from a merchant account.
Withdrawing from your Sportsbook Balance
You can withdraw with this online payment method as well. First, the funds will be transferred to your iDebit account, then you will be able to withdraw them to your bank account. However, you will need to provide iDebit with your banking details so that the funds can make it to your bank account.
Withdrawal times vary largely based upon the merchant, or in this case, sportsbook, you have picked and your bank. This means that the time it takes can range between a few minutes and 5 business days. Usually, withdrawals with this method are processed within 24 hours.
As with depositing, all you need to do is go to your sportsbook account and then go to the withdrawal page. Then, you will be able to select iDebit as your preferred method. This will only be possible if you have deposited using this method as well. Otherwise, you will be unable to use it for withdrawals. After you have selected it and set the sum you wish to withdraw, you will once again be taken to an iDebit page in order to provide authentication and approve the transaction.
Cost and Fees
The fees involved in using this payment method are actually quite low and there are only 3 types of fees you may need to pay. As previously stated, opening an iDebit account is entirely free of charge and receiving funds from a merchant is free as well.
However, making an online banking transaction with this payment method comes with a fee of 1.50 CAD. Depositing funds that are already in your iDebit account is entirely free though. Withdrawing funds from your iDebit account to your bank account costs 2.00 CAD.
The third fee you may need to pay is a currency conversion one. This one, however, is unspecified by iDebit as it changes daily. Additionally, there is a commission involved because of the currency risk that comes with providing such services.
There is also an additional fee that is only applicable when a user has a refund to receive but refuses to provide their banking information. This could refer to the name of your bank, routing/IBAN/Swift, or account number. In such cases, iDebit may send your refund via check or money order directly to your address which will cost you 25 CAD for each and every single one.
Security and Privacy
Every single iDebit page that contains or requests any of your information is entirely secure. The whole website is protected with SSL encryption. All of the transactions you make with this payment method are highly secure every step of the way. You only need to make sure that you are, in fact, on the right page and not being scammed by a page with a similar URL.
The servers of iDebit are located in a restricted access, state-of-the-art data center not only equipped with biometric palm scanners but also patrolled by experienced security guards 24/7. That is quite impressive and reassuring, so for anyone who still has safety concerns – you are in good hands.
As you can see, your safety depends not only on the banking services you use but also on you. Regardless of whether you are using this payment method or any other, to deposit funds in your sportsbook account or pay a merchant, you need to remain vigilant. There are plenty of phishing scams and a ton of clever hackers, so please stay safe. If you have any safety concerns about iDebit, specifically when it comes to fraud, you can e-mail them directly at security@idebitpayments.com.
When it comes to privacy, iDebit is quite strict. The company does not retain any information that could be used to access your bank account. The information they do keep is available to the absolute minimum number of people and is stored in computers that are not connected to the internet and are safeguarded in a number of ways, both physically and electronically.
To be quite frank, you do not need to take our word for it, iDebit's privacy policy and terms of use are fully available on its website. This company operates with complete transparency and addresses any and all concerns its users may have. It states quite clearly that the safekeeping of your data is mostly up to you because the data it stores cannot be used for identity theft or making any actual financial transactions.
Advantages of iDebit
The advantages of iDebit begin with its speed and efficiency. Not a lot of payment methods can be used without registration and that definitely gives this one some bonus points. The immediate transactions are always appreciated by punters. The speed of iDebit's transactions is really quite remarkable given its stringent security policies.
The security this payment method comes with is definitely another thing sports bettors look for. Given the complicated gambling laws, acts, and policies in most countries, Canada included, it is not all that easy to rely on the legitimacy of online sportsbooks. So, a company that has such a high level of security and guarantees the safety of your funds and data, and the successful completion of each transaction, cannot go unnoticed.
In all fairness, there are certain criteria that can determine whether a sportsbook is safe or not, and iDebit cannot guarantee that every transaction will be successful because you may not have enough funds in your bank account, or a crucial server is down, and so on. But, if everything is as it should, then your transactions with iDebit will indeed always be successful.
Of course, the low fees that this payment method offers are also highly sought after. Given the usual minimum deposit and withdrawal sums that sportsbooks have, 2 CAD is a small price to pay. Naturally, it is absolutely worth it because of the quality of the service provided by iDebit. The lack of fees when using your iDebit account funds is also an absolute advantage.
A great advantage of iDebit is that it provides customer support in the form of live chat. This is something that is quite rare when it comes to payment methods. In addition, the response from its support team is instantaneous which is highly commendable. Not only that, but the company also has a phone line and replies to e-mails within 30 minutes.
Disadvantages of iDebit
The first and largest disadvantage of this payment method is that it is only available to Canadians that have an online banking account at one of the supported banks. It used to be available internationally, however, that changed and the company now only operates with its home country. This is quite unfortunate because while it operated with other countries it became one of the most popular payment methods for punters.
Something else that can be regarded as a disadvantage is that when you withdraw funds from your sportsbook account. They do not go directly to your bank account and you need to withdraw them a second time from it in order to be able to actually have the physical cash. Of course, you can use the funds in your iDebit account to pay and deposit but that simply is not what some sports bettors want.
You also cannot use funds from different bank accounts to make one payment. You need to have all the funds that you wish to deposit into your sportsbook account in one place or you will need to make multiple transactions. Additionally, you cannot pay partially with funds that are already in your iDebit account, you still need to have all the funds for a given transaction in one place.
Once you start using iDebit as a registered customer, you will notice that there is a transaction limit. It is a little low at first but it quickly goes up, so it is not really restricting. Additionally, the limits usually are not lower than the limits of sportsbooks in general. You can keep track of your limit by checking your receipt after each transaction.
Another disadvantage is that, while iDebit has 24/7 support, it will not be able to help you in case you have a problem with a merchant you have already paid. For instance, if you have paid for some goods and have not received them, or if you have deposited funds and they are out of your bank account but not in your sports betting account, you will have to deal with the merchant or their customer service team. In any case, it is not a good situation to be in.
The same is true when it comes to refunds – you have to deal with the merchant directly. This could be a problem if you have been scammed because no crook will agree to give you your money back. Hopefully, you will never be put in such a position. There are multiple ways to avoid this, mainly by being careful about which websites you use and which merchants you trust. And, of course, no reputable sportsbook will ever do such a thing.
Conclusion
All in all, iDebit is a great payment method and is already widely accepted in Canada. Plenty of online sportsbooks offer this banking solution and with good reason. As you can see, the security of iDebit is most impressive and its speed, allowing sports bettors to even get a last minute bet, is what makes it superior to similar online payment methods.
When it comes to sports betting in Canada, iDebit is definitely the banking option to go for. It is much like a debit or credit card but with an additional layer of security and no monthly fees. If you use it often enough to accumulate funds in your iDebit account, you can make deposits entirely free of charge with them. Otherwise, the fees applicable are far lower than those of other payment methods anyways.
Regardless of whether you wish to play at a Canada-based sportsbook or one that is not, iDebit is certainly a banking option to take into serious consideration. The advantages far outweigh the disadvantages and given the security protocols and measures that sportsbooks have in place nowadays, this method is almost entirely risk-free.