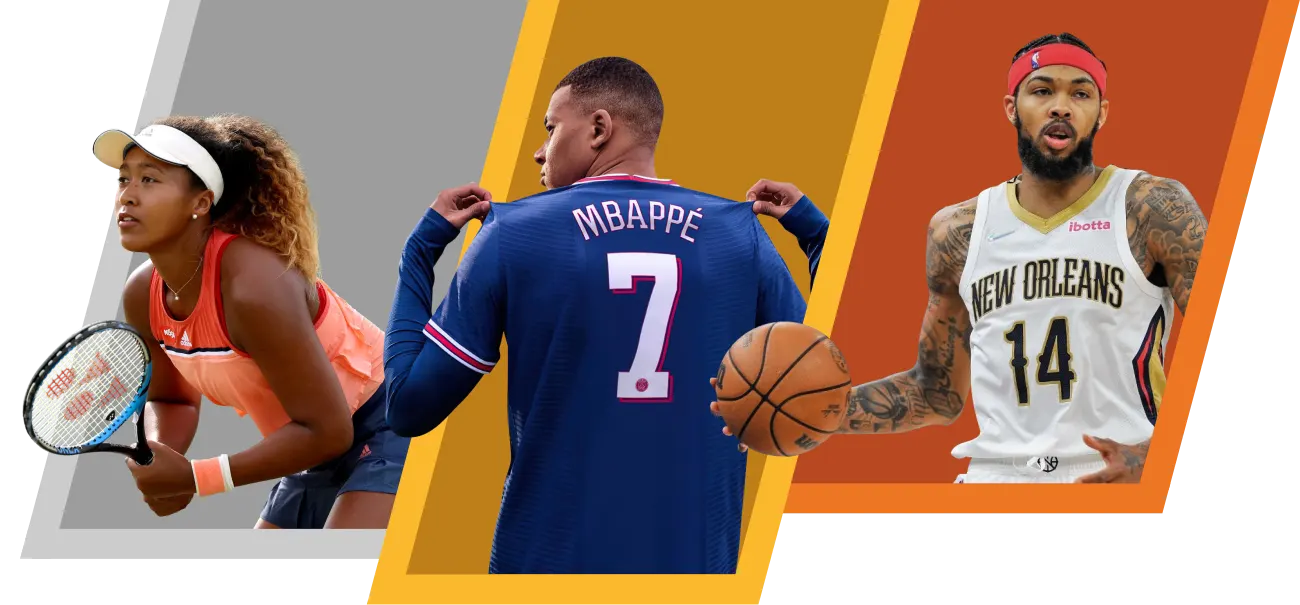 10 Highest-Paid Athletes

Under

25
$29,322,149

Season 2021/2022 Earnings

Age:

23

Country:

France

Sport:

Soccer

Team:

Paris Saint-Germain F.C.

Career Earnings:

$130,301,273

Age:

25

Country:

US

Sport:

Boxing

Career Earnings:

> $60,000,000

$42,000,000

Season 2021 Earnings

Age:

24

Country:

Belgium

Sport:

Formula 1

Team:

Red Bull Racing

Career Earnings:

(including bonuses)

$95,427,500

Age:

24

Country:

Japan

Sport:

Tennis

Career Earnings:

(excluding endorsements)

$20,076,456

$29,467,800

Season 2021/2022 Earnings

Age:

24

Country:

US

Sport:

Basketball

Team:

New Orleans Pelicans

Career Earnings:

$80,122,392

$7,572,154

Season 2021 Earnings

Age:

23

Country:

Greece

Sport:

Tennis

Career Earnings:

(on-court singles & doubles)

$16,345,212

$3,866,240

Season 2021 Earnings

Age:

24

Country:

US

Sport:

Football

Team:

Arizona Cardinals

Career Earnings:

$30,246,386

$10,450,000

Season 2021/2022 Earnings

Age:

24

Country:

US

Sport:

Ice Hockey

Team:

Toronto Maple Leafs

Career Earnings:

$45,045,000

$8,500,000

Season 2021 Earnings

Age:

23

Country:

Dominican Republic

Sport:

Baseball

Team:

Washington Nationals

Career Earnings:

$11,204,031

$1,849,698

Season 2021/2022 earnings

Age:

23

Country:

South Korea

Sport:

Golf

Career Earnings:

(including bonuses)

$14,989,106
Estimated earnings per Instagram post
| № | Name | Sport | IG Account | Followers | Earnings Per Post |
| --- | --- | --- | --- | --- | --- |
| 1 | Kylian Mbappe | Soccer | @k.mbappe | 64.8M | $128,864 - $214,773 |
| 2 | Jake Paul | Boxing | @jakepaul | 18.6M | $36,970 - $61,616 |
| 3 | Max Verstappen | Formula 1 | @maxverstappen1 | 7.8M | $15,592 - $25,986 |
| 4 | Naomi Osaka | Tennis | @naomiosaka | 2.8M | $5,628 - $9,381 |
| 5 | Brandon Ingram | Basketball | @1ngram4 | 2M | $4,037 - $6,728 |
| 6 | Stefanos Tsitsipas | Tennis | @stefanostsitsipas98 | 1.4M | $2,940 - $4,900 |
| 7 | Kyler Murray | Football | @k1 | 1.3M | $2,720 - $4,533 |
| 8 | Auston Matthews | Ice Hockey | @austonmatthews | 758K | $2,268 - $3,781 |
| 9 | Juan Soto | Baseball | @juansoto_25 | 551K | $1,647 - $2,746 |
| 10 | Sungjae Im | Golf | @sungjaeim | 52.7K | $215 - $358 |
In 2021, the pandemic continued to disrupt global sports in an unprecedented ways such as putting the brakes on a number of sporting events, while others took place under strict health protocols, and also putting a big dent in the commercial aspect of many major sports. Thankfully, the magnitude of its impact was slightly reduced. Also, despite the challenges, individual athletes apparently thrived.
General highest-paid athletes lists are annually produced by a range of media outlets. This is why the SporingPedia team decided to narrow its focus to the highest-paid athletes under 25 and produce a comprehensive report ranking the richest young athletes competing in the highest-paying sports in the world based on their 2021 and career earnings.
Between Naomi Osaka, who tops our list, and South Korean golf prodigy Sungjae Im, who rounds it out, all athletes included in our ranking split among themselves north of $220 million last year. Here is how much they earned in 2021 and how they performed in their respective fields last year.
1. Naomi Osaka
The Japanese tennis star had a mixed year on the court, but she still earned enough to top our rich list. Forbes named her the highest paid female athlete of 2021 with a total of $57.3 million in combined on- and off-court earnings.
It is not uncommon that tennis players make it to the top of similar rankings. Given the individuality of the sport, they often represent brands from various industries as their sponsors. The bulk of Osaka's 2021 earnings came namely from endorsements.
I've never been more excited for a year to be over.

— NaomiOsaka大坂なおみ (@naomiosaka) December 31, 2021
The tennis prodigy, who Donovan Dooley of Deadspin once described as "one of the swaggiest athletes we've ever witnessed (and we couldn't agree more)", represents the likes of Nike, Tag Heuer, Louis Vuitton, Beats by Dre, and Mastercard, which saw her collect over $55 million last year. Osaka's on-court earnings amounted to $2.3 million.
After a tumultuous 2021 that she Tweeted she was excited to be over and that included a fourth Grand Slam title but also a four-month hiatus from tennis, Osaka is now back on the court and we hope she has one great year on and off the court.
2. Max Verstappen
Verstappen certainly had a year to remember. After an epic season-long shoulder-to-shoulder battle with Lewis Hamilton, the Dutch pilot nabbed his first Formula 1 world title. And he secured the massive world champion trophy and the accolades that come with it in nothing less than a truly spectacular way during the final lap of the last race of the season in Abu Dhabi, although his win sparked a bit of controversy.
Of his performance last year, ESPN's Laurence Edmonson wrote "race after race, corner after corner, Max Verstappen has been pushing his Red Bull to the limit [in 2021]" and that "his impeccable judgement of speed versus grip has saved him from disaster and delivered him to glory on numerous occasions."
— Max Verstappen (@Max33Verstappen) December 16, 2021
Verstappen's base salary with Red Bull Racing was $25 million in 2021, which made him the second highest-paid Formula 1 pilot, trailing only behind Hamilton. Including bonuses, the Dutchman trousered more than $42 million last year. This earned him the silver in our rich list.
3. Jake Paul
Paul's track record of controversies is seriously wider than the sky. But hopping from one scandal onto the other has only propelled the YouTuber-turned-boxer's fame and fortune. His YouTube channel has more than 20 million subscribers, while his professional boxing bouts reportedly yanked millions of viewers.
Paul entered the world of professional boxing in 2020 to the entire community's utter shock. So far, he has five wins, no losses, and no draws on his record. According to Forbes, he made around $40 million before tax from his three fights in 2021.
I've KO'ed everyone I've fought. pic.twitter.com/Pz55uCIHc4

— Jake Paul (@jakepaul) December 19, 2021
He made his first appearance of the year in April when he knocked out ex-UFC fighter Ben Askren in the first round. In September, he won a highly publicized bout against former UFC champ Tyron Woodley. The overall pay-per-view sales for that fight reportedly reached just under 500,000 buys. In December, Paul won a rematch with Woodley.
True to his scandal-prone nature, Paul said in a recent Instagram story that the number reported by Forbes was lower than what he actually made from boxing last year.
4. Brandon Ingram
The New Orleans Pelicans small forward had a year of ups and downs. Some say he played the best basketball of his career in 2021. However, he suffered several serious injuries throughout the year that kept him off the floor for several weeks each.
Last night, Brandon Ingram and Josh Hart bought 20 tickets for the family of rookie teammate (and NYC native) Jose Alvarado for his first game at MSG.

You LOVE to see it. 🔥 pic.twitter.com/RvuJ44oUPH

— Legion Hoops (@LegionHoops) January 22, 2022
In May, an ankle injury got him out for the last six games of the season. Early into the 2021/2022 season, Ingram suffered a hip injury that saw him miss seven games. In December, he went down with an Achilles injury. Early into 2022, he suffered an ankle sprain in the Pelicans' win over the Knicks.
Despite his contusions, Ingram earned more than $27.2 million in season 2020/2021 and is set to pocket over $29.4 million in season 2021/2022. He's currently the Pelicans' highest-paid player and the highest-paid NBA player under 25.
5. Kylian Mbappé
Mbappé's 2021 was packed with many highs, some lows, and many goals (barely a surprise). The Paris Saint-Germain forward kept his terrific form throughout season 2020/2021 and now halfway into season 2021/2022 to become Europe's second most prolific scorer of the year. He scored a total of 51 goals in 67 matches with his club and France's national team.
His consistency throughout the year not only cemented his position among soccer's greatest but also paid him well. The goal-scoring behemoth earned more than $28.4 million with PSG during the previous season and is set to earn over $29.3 million by the end of the current one.
"The past 12 months have seen Kylian Mbappe firmly assert himself as the best player in the world after over a decade of the Lionel Messi/Cristiano Ronaldo duopoly," notes Jack Beresford of Newsweek.
L'HISTOIRE CONTINUE DE S'ÉCRIRE…
ALLEZ LES BLEUS 🇫🇷🏆👊🏽 pic.twitter.com/wEIKvZTPRQ

— Kylian Mbappé (@KMbappe) October 10, 2021
He goes on that the PSG star's "pace, power and finishing has been crucial to [his team] success domestically with the Frenchman outstripping teammates like Messi and Neymar on a weekly basis."
That's not to say it all went Mbappe's way last year. He was the big loser from France's shock early exit from Euro 2020 and failed to win the Champions League with the Parisiens. 
Yet he ended the year on a high as the star of Les Bleus' UEFA Nations League success. With a World Cup to come and a move to Real Madrid looking likely, it feels like the best could be yet to come."
As speculation about Mbappé's future continues and with Real Madrid hovering over the young forward, Beresford points out that while he is "one of the world's highest paid athletes – and rightly so – money is clearly not his sole motivation, otherwise he would be staying at PSG rather than seeking glory with the biggest club in the world Real Madrid.
With talk of Paul Pogba and Erling Haaland joining him at the Bernabeu next season, we could be looking at the next generation of Galacticos and another fascinating chapter in the Real Madrid story."
6. Auston Matthews
While he's an athlete of many talents, Auston Matthews chose to make a career as a hockey player growing up. And he chose wisely. The Toronto Maple Leafs pinned their future on the US-born center in 2016 when they made him their No. 1 pick in that year's NHL draft. He has only excelled in the game since then.
Matthews scored 41 goals in 52 games in season 2020/2021 and has scored 25 goals in 34 games so far in the current season. Early into 2022, he was a goal away from tying an NHL record. The Leafs center had scored in 10 straight road games and if he had stricken against the New York Rangers, he would have matched Pavel Bure and Steve Yzerman for the longest road scoring streak in NHL history.
Auston Matthews going for a skate in the offensive zone pic.twitter.com/I7ddZ2Y1Uz

— Omar (@TicTacTOmar) January 23, 2022
Matthews' base salary with the Leafs was $700,000 in season 2020/2021. He is set to earn $750,000 by the end of the current season. Including bonuses, the player earned a total of $15.91 million last season and is set to trouser $10.45 million this season.
Of Matthews, The Hockey News' Ryan Kennedy said that "playing in hockey-mad Toronto, he has a big spotlight" and that he "has become one of the biggest stars in hockey thanks to his combination of size, mobility and especially his shot: Matthews has an uncanny knack for disguising his release, making it very difficult for goaltenders to pick up."
As for Matthews' off-the-ice persona, Kennedy noted that he "has been very marketable thanks to his interest in fashion and his friendship with pop star Justin Bieber."
7. Juan Soto
The Washington Nationals had a rather uneven 2021 campaign with not so many things to be happy about. However, outfielder Juan Soto certainly was one of those few things. He put together a terrific season that really stood out among players of his age (he was 22).
First pitch, first home run for Juan Soto in his MLB debut

It still gives me goosebumps

— Kev (@OnePursuitTakes) January 21, 2022
Last year, Soto recorded the most walks – 145 – and the highest on-base percentage – .465 – than any other player in his age-22 season since World War II. And what makes his 2021 stats even more impressive is the fact that he swung his bat at just 35% of the pitches he saw throughout the season, the lowest rate in the 2021 season and the lowest among players in their age-22 season since at least 2002.
Soto was the runner-up in the 2021 National League Most Valuable Player race with Bryce Harper claiming the coveted award.
The Nationals outfielder earned $8.5 million for his other-worldly 2021 season.
8. Stefanos Tsitsipas
The Greek tennis star made some big strides in 2021, adding two more titles to his career record, including his first ATP Masters 1000 title in Monte Carlo. He reached his first Grand Slam final at Roland Garros but a maiden title eluded him again.
In August, he climbed to a career-high No. 3 ATP Ranking, but dropped to No. 4 toward the end of the season.
Tsitsipas ended his season abruptly due to an elbow injury but he's back on the court following surgery and is positive about 2022. Days ago, he was a victory away from an Australian Open final, but was defeated by Russia's Daniil Medvedev in a chaotic match packed with high-quality tennis and a little bit of drama.
New season, new grunts 😂https://t.co/VfQ4TDKZYI

— Stefanos Tsitsipas (@steftsitsipas) December 24, 2021
The tennis player earned over $3.5 million in prize money last year. We couldn't find how much he has made from sponsorship deals, but bearing in mind that he represents Wilson, Adidas, Rolex, and Red Bull, among other major brands, he's probably netted a millions in off-the-court earnings.
9. Kyler Murray
The Arizona Cardinals quarterback is currently at the top of a number of lists. He is one of NFL's best talents under 25. And he is the league's highest-paid player under 25.
Besides football, Murray had also distinguished himself in baseball. In 2018, he was drafted ninth overall by the Oakland Athletics. He chose to play football for another year before going into professional baseball. His impressive performance throughout that year eventually resulted in him choosing to pursue a career in football.
Startin' 2022 off right w/ my guys! @AZCardinals pic.twitter.com/Soky1TkDzh

— Kyler Murray (@K1) January 3, 2022
Murray is now among the nation's top QBs and is arguably at the top of his game. He earned more than $3.8 million, including a roster bonus, in season 2021 and is set to get just under $5.5 million at the end of this season, including a roster bonus of over $4.5 million.
We asked Joe Mason of Northeast Times to share with us a few thoughts on Murray and his style. He said that the Cardinals QB "has made a lasting impression on me" and that "Murray seems to have no regard for his body when he plays, which tells me the money hasn't impacted him."
"He is very small for being an NFL quarterback, yet he runs and takes hits to help his team. You can tell after he was injured this year he slightly changed his playing style, but I believe that was more because the team wanted him on the field than he was worried about longevity."
"Murray isn't a top five quarterback yet, but he's getting there."
10. Sungjae Im
The South Korean had a big year that saw him grab his second PGA Tour title. In October, he won the Shriners Children's Open in Nevada after making five consecutive birdies on the tournament's final day.
PGATOUR: 263 yards out.
In the rough.
Ball below his feet.

Eagle the whole way for Sungjae Im. pic.twitter.com/lQGTWenorh

— William EVS (@PGAGolfChat) January 22, 2022
Im has generated more than $1.8 million in prize money since the beginning of the current season. Last season, he played 35 events to net more than $4.1 million.
He won his inaugural PGA Tour title in Season 2019/2020 when he emerged as The Honda Classic victor.
How Does Money Affect Athletes' Motivation?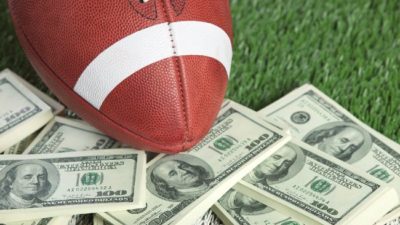 American psychologist Barry Schwartz wrote some decades ago that "the commercial side of sports has moved from the periphery of its conduct and of public awareness to the very center" and "sports has been significantly changed as a result."
Ever-richer broadcasting rights and sponsorship contracts have driven athletes' earnings to extremely high levels. But while it is hugely important to reward their hard work, there has long been an ongoing debate over the impact multi-million contracts and tournament prizes could be having on athletes' motivation.
We asked a few experts to share a thought or two with us on this important topic and here's what they think.
Paul Radley of The National News said that he's "always stunned that once an athlete has signed one contract with an employer or sponsor, or won a huge prize pot for winning a competition, and they are then set for life, they don't just go and sit on a beach and chill for the rest of their days (once their contractual obligations have run their course, obviously)."

Radley went on that "clearly, athletes have reached that point because of, yes, their talent, but also their competitive drive. I suppose they are then maintained by that drive to keep bettering their opposition, and mark themselves against history, too."

But he also pointed out that there are "some athletes who are marked out for great things by the early promise do fail to progress once they become comfortable because of the money they have made." Yet, according to him, all of the athletes on our list are probably "driven by something more than the pursuit of financial gains."
Joe Mason of Northeast Times shared a similar view. According to him, athletes are not motivated to play better by money and that while some do "lose focus because of money," it's highly unlikely that "any athlete wants to hit a home run or knock someone out or win a major for the money."

"They're doing it because it's what they've done their entire lives," he continued. "I know they enjoy the money and hold out for more money because it's a business, but I don't think anyone hits the weight room or does cardio for their contract."

"They do it because they want to be elite athletes. Some might get lazy when the money comes in, but I don't think they're motivated by money. I'm sure there are examples of ones who were, but I don't think it's common."
Of how money affects elite sports in general, Uldis Strautmanis of Delfi.lv told us that "if we talked about the profits of athletes, then sports are becoming more and more commercialized and sports that cannot be sold so well are disappearing from the scene." He further pointed out that "people from the sidelines invest in sports because they see it as a business – with a desire to earn" and that this is "not good for sport [because] sport cannot be measured by measure alone – how much it allows you to earn."
Our view? There are people and people – some get motivated by fame and money, others are driven by the intrinsic satisfaction of simply playing the sport. The goal of winning, beating the competition, or being a fan-favorite are also in the mix of factors that motivate one athlete or another. Whatever it is that drives them, it is important they find it and use it toward reaching their career goals.
Ranking Methodology:
The SportingPedia team ranks the wealthiest active athletes under 25 based on their estimated 2021 earnings. We first browsed a rich database of reliable sources to identify the world's highest-paying sports. We next pinpointed the highest-paid athlete under 25 competing in each of these sports to compile our ranking.
We also rank each of the 10 athletes included in our report based on their estimated earnings per Instagram post, using Influencer Marketing Hub's new Instagram earnings calculator. This is not an official Instagram tool and it only provides a rough estimate of how much a person could earn on Instagram based on the number of their followers and how much they engage with their posts.