New Jersey Launches Full-Scale Esports Betting ahead of MSI 2022
MSI 2022 will kick off on May 10, approximately a month after the arrival of full-scale legal esports betting operations in New Jersey. What impact will the upcoming international tournament have on the local esports sector and how will legal esports wagering affect the New Jersey sports betting industry?
New Jersey revised its betting legislation in mid-2021 to include esports contests in the range of legal betting options available to residents. The legislative changes brought in the first full-fledged esports platform to the Garden State that does not require regulatory authorization for its ongoing esports schedule.
The Esports Entertainment Group was granted the first esports license in early 2022 for its VIE.gg platform. The full-scale version of the platform debuted in early April and enabled punters in the state to bet on various professional esports contests.
Esports fans in New Jersey are now able to test their prowess across wildly popular games like League of Legends (LoL), Call of Duty, Dota 2, Counter-Strike: Global Offensive, and Overwatch, among others.
The platform's full launch came just in time for the upcoming Mid-Season Invitational (MSI), the second biggest League of Legends tournament in the world. Considering its immense importance in the global gaming community, MSI 2022 could draw additional betting action to New Jersey's young esports market and further its development.
Esports analytics and market research company Newzoo predicts the esports wagering industry could witness 9% growth throughout 2022, but what would full-scale esports betting mean for New Jersey? To answer this question, we shall consider several factors, including the current size of the state's sports betting industry, the popularity of esports on a local and global scale, and the impact of major international championships like the MSI.
Healthy Economy Is Prerequisite for Thriving Esports Betting
New Jersey Fact Sheet
Size
8,722.58 sq. mi.
Population
8.87 million
Nominal GDP
$672 million in 2021
Nominal GDP per capita
$72,524 in 2021
Leading Industries
Pharmaceuticals, financial services, advanced manufacturing, technology, logistics, gambling, renewable energy
Despite the negative impact of the global coronavirus pandemic, New Jersey manages to maintain a healthy economy driven by the financial services, advanced manufacturing, pharmaceuticals, technology, and gambling sectors. The most densely populated state in the US ranks ninth in terms of overall nominal GDP and nominal GDP per capita.
The state's gross domestic product exceeded $672 million in 2021, with an average annual income per resident of approximately $72,500. In this respect, New Jersey is surpassed only by Pennsylvania, New York, California, Florida, and Illinois, among several others. This strong economy serves as an important prerequisite for the future solid performance of the still young esports betting industry in the Garden State.
Furthermore, New Jersey is the eleventh most populous state in the country despite ranking fourth in terms of total area. The quality of life here is one of the best in the country, according to estimates by WalletHub, a personal finance website that ranked New Jersey seventh. The Garden State is also home to three of the country's richest counties, Morris, Somerset, and Hunterdon. All these factors combined make for a solid foundation for the success of esports betting in the state.
Esports Could Drive the Further Growth of Sports Betting in New Jersey
New Jersey is already home to a mature gambling industry, which could facilitate the future growth of the local esports betting market. The state has always been a staunch advocate of legal sports betting, so much so that it played a crucial role in the Supreme Court's repeal of the federal ban on sports wagering in May 2018.
It was one of the first states to take advantage of the ban's demise, passing legislation to regulate sports betting only a month after SCOTUS' decision. It did not take long for the local betting industry to show its enormous potential. June 2018 saw regulated sportsbooks generating a betting handle of $16.4 million but the figures continued to climb steadily over the following months, reaching $319.17 million in December of the same year.
Betting handle continued to grow throughout the following years, peaking at over $1.3 billion in October 2021. Not counting the results from November and December, New Jersey sportsbooks accepted more than $8.45 billion in sports wagers last year. As for tax revenue, the state collected over $85.4 million from regulated sports betting.
Not counting Nevada, the state boasts the largest sports wagering industry in the country, with the online segment accounting for a solid portion of both betting handle and revenue. The addition of full-scale esports wagering is more than likely to propel New Jersey's betting industry to even greater heights. Even more so, considering the surge in betting enthusiasm among New Jerseyans, demonstrated by the rising handle figures.
Sports Betting Handle of New Jersey Sportsbooks from 2018 to 2021
June to December 2018
$1.25 billion
January to December 2019
$4.58 billion
January to December 2020
$6.02 billion
January to October 2021
$8.45 billion
Esports Have Taken the US by Storm, New Jersey Set to Become Esports Hotbed
The global esports industry has seen a significant expansion during the coronavirus pandemic when social interactions transitioned from the physical to the virtual world. While many industries in the US took a hit as a result of the pandemic, esports witnessed further growth during these trying times.
Their popularity increased throughout the country, making the US the second-largest esports market in terms of revenue valued at $243 million as of 2021. Only China surpasses the US in this respect but this is unsurprising considering how huge esports are in the PRC.
Largest Esports Markets in 2021 Based on Revenue
China
United States
Western Europe
$360.1 million
$243 million
$205.8 million
Over 3,600 Esports Pros Call the US Home
The US is also home to one of the most successful professional esports teams in the world, Team Liquid, which stands a rather decent chance of representing the North American region at this year's MSI. It was the tenth highest-earning esports team in 2021 on a global scale, with profits in excess of $2.2 million.
The US is a global leader when it comes to competitive esports. It is home to some of the top-performing teams in the region, including the above-mentioned Team Liquid, Cloud9, 100 Thieves, and Evil Geniuses, among others.
The region has produced two of the world's leading esports teams based on overall tournament prizes. As of November 2021, Team Liquid ranks with $37.82 million in prize money, while the Evil Geniuses placed third with $35.63 million in earnings.
The US surpasses China in terms of active professional esports players (3,629). It is home to the likes of Sumail (Evil Geniuses), Blaber (Cloud9), Bwipo (Team Liquid), and Licorice (Golden Guardians) who have all made names for themselves in the field of competitive esports.
Top 10 Countries in Terms of Active Professional Esports Players (2021)
Country
# of Active Esports Pros
Prominent Players
#1 United States
3,629
Sumail, Bugha, Blaber, Bwipo, Licorice
#2 China
1,030
Somnus丶M, fy, Kaka, Ame
#3 Russia
938
Miposhka, Collapse, RAMZES666, Darien, Solo
#4 France
915
sOAZ, YellOwStaR, apEX, Skite, Ceb
#5 Germany
901
PowerOfEvil, FATA, KuroKy, qojqva, JannisZ
#6 Brazil
889
FalleN, TACO, brTT, fer, Psycho
#7 South Korea
883
Faker, Rookie, Doinb, TheShy
#8 United Kingdom
710
Alphari, Mongraal, Bance, Wolfiez, BenjyFishy
#9 Canada
603
WildTurtle, Arteezy, Zayt, MoonMeander, NAF
#10 Japan
594
Evi, Yutapon, feg, kakip, Tokido
Esports Viewership Could Exceed 15% by 2023
Esports are experiencing rapid growth in the United States, where approximately 28% of the population consider themselves fans to some degree. Out of this percentage, 9% describe themselves as very passionate about esports, while the remaining 19% consider themselves only casual fans.
Easy accessibility is a major contributor to the popularity of esports in New Jersey and the US as a whole. Full-scale esports wagering is bound to attract more fans in New Jersey and increase esports viewership over the coming years. In fact, viewership has been consistently on the rise in the US in the last several years. Projections are that 15.5% of the US population with internet access will be watching such events one or more times per month by the year 2023.
Esports Viewership among US Internet Users from 2018 to 2023
2018
9.20%
2019
10.70%
2020
12.10%
2021
13.40%
2022
14.60%
2023
15.50%
Locally Based Team Dignitas Could Drive Further Interest in NJ Esports
Newark, New Jersey's largest city, is home to the professional esports organization Dignitas (previously Team Dignitas), which could spark further interest in esports among local fans. The organization's teams have collectively won over $186,000 in total prize money across various LoL tournaments, but unfortunately, New Jersey fans are unlikely to see their LoL team at this year's MSI.
Dignitas placed seventh in the LCS 2022 Spring Season so they were unable to advance to the playoffs, as only the top six teams move on to the second season. Dignitas recently defeated 100 Thieves in an upset best-of-one game on March 27, when they took an early lead on the top side of the map.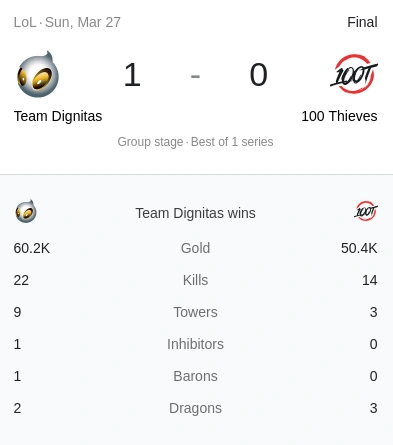 Dignitas players prevailed with 22 kills, 9 taken towers, 1 baron, and 2 dragons. However, their faint hopes of making it to the playoffs were shattered after FlyQuest, Evil Geniuses, and Golden Guardians ended the season's final week with victories against Cloud9, CLG, and the Immortals. Nonetheless, New Jersey fans have something to look forward to as Dignitas will have the chance to redeem themselves during the LCS 2022 Summer Season.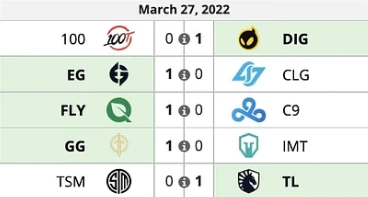 New Jersey on Pace to Become Esports Mecca of US Northeast
As the only state with a full-scale esports betting platform in the Northeast, New Jersey has set the pace in the region and will perhaps influence neighboring states like Pennsylvania and New York to follow suit. Nearby states like Maryland and Connecticut have also legalized wagering on such electronic contests but lack dedicated esports platforms for the time being.
Legal esports wagering in these jurisdictions comes with various contest-related restrictions, among other limitations. It is, therefore, safe to say the Garden State has blazed a trail in this respect. The freshly launched platform of Esports Entertainment Group enables fans to wager on esports games the same way they would on traditional sports like football, baseball, and basketball. Apart from having a broad range of games to choose from, New Jersey residents can experiment with different bet types.
They can post straight bets on winning teams at different stages of the contests, but in-play wagering on events in progress is also an option. All of this allows for a more wholesome and immersive betting experience than esports fans across the state have ever enjoyed before.
But more importantly, the platform's operator does not have to constantly seek regulatory approval for its ongoing schedule of events. With this obstacle out of the way, New Jersey is set to make huge waves in the esports betting arena.
MSI 2022 Could Give New Jersey's Esports Betting Sector a Powerful Push
Full-scale esports wagering in New Jersey launched just in time for the MSI 2022, a major international tournament that is likely to draw huge action on behalf of local fans. The event kicks off on May 10 and will see eleven of the best regional teams compete for the champion title and a slice of the prize pool with $250,000 in minimum guaranteed prizes.
Looking at viewership figures from previous years, we anticipate the 2022 tournament will again attract considerable interest from bettors and fans alike. MSI viewership has been consistently increasing over the last several years, with peak viewers jumping from 1.70 million in 2019 to 1.83 million in 2021. No data is available for 2020 as the annual tournament was canceled due to the pandemic, which prevented participating gamers from traveling internationally.
MSI Viewership Data for 2019
Peak Number of Viewers
Average Number of Viewers
Total Hours Watched
Total Airtime
1,704,326
537,619
43,412,707
81 hours
MSI Viewership Data for 2021
1,839,876
711,465
61,185,964
86 hours
It will be anything but shocking if 2022 figures surpass those of previous years, especially if we consider how hugely popular LoL is on a global scale. The online battle arena ranked second in terms of hourly viewership on the Twitch platform with 157 million viewing hours in April 2021 alone. Only Grand Theft Auto V managed to surpass it with 239.5 million viewing hours.
Similar tendencies were observed in December 2021 when LoL again placed as the second most popular game on the online streaming platform with 127,000 concurrent viewers per week on average.
Viewership continued to improve at the beginning of this year as LoL events were watched concurrently by 248,000 Twitch users in January. Worlds 2019 and Worlds 2020 were two of the most-watched esports tourneys as of May 2021, with viewership peaking at 3.99 million and 3.88 million viewers, respectively.
Considering this data, it appears New Jersey could not have chosen a more appropriate time to launch full-scale esports wagering. Grant Johnson, Chief Executive Officer of Esports Entertainment, foresees even bolder figures, projecting the value of esports wagering alone could reach an estimated $205 billion by 2027. If he proves right, New Jersey could be in for a massive influx of betting revenue in the years to come.