Bovada Mobile Sports Betting App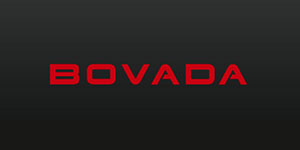 Bovada is a popular sportsbook among US punters as it offers plenty of competitive odds on various popular sports. What is more, the bookmaker strives to ensure a smooth betting experience for its members no matter where they are. Thanks to a fully-optimized mobile version, the sportsbook can run on almost any Android and iOS device. This allows bettors who are on the move to choose betlines and place their wagers even when they are not at home.
Different promotions will still be available to mobile users as the sportsbook strives to give its patrons numerous opportunities for fruitful outcomes. Payments on the mobile version of Bovada are also smooth, fast, and secure. This ensures that the overall experience at Bovada is going to be fun, fair, and enjoyable no matter where you are when you bet.
Bovada Betting App Features
Bovada has made sure that you can enjoy your betting experience even when you are on the move. Thanks to a fully-compatible mobile version, the sportsbook allows its customers to place their bets with just a few taps on the screen of their devices. It does not matter the type of device you are using as the mobile version of Bovada can run on almost any smartphone or tablet.
To load the mobile sportsbook, all that you will need is a stable Internet connection and the browser app on your handheld device. This will allow you to access the bookmaker's website and start betting no matter where you go.
The mobile version of Bovada has a simple and slick design that will enable them to handle their bets on the go with extreme ease. Even if you access Bovada via a mobile device, you will be able to switch the different sections of the website, enjoying sports betting, horse racing, or different casino games.
Mobile version offers
The mobile version of the sportsbook offers competitive odds on some of the most popular sporting events, allowing punters to bet on basketball, soccer, hockey, tennis, and many more sports. If you choose a betline, you will be able to see all important actions in the game as they happen in real time, statistics about the teams in the match, incidents in the event, and other useful information that can help you decide the team to bet on.
The mobile version of Bovada will also allow you to handle your payments and you will always have enough funds for your bets. Initiating withdrawals on the go is also a piece of cake and you can enjoy your winnings no matter where you are.
Bovada App Features
Available on
Android, iOS, browser
Market limitations
No
Banking limitations
No
Languages
English, Spanish, Chinese
Supported Devices
Apple iPhone 12, Apple iPhone 11, Apple iPhone XS, Apple iPhone XR, Apple iPhone X, Apple iPhone 8, Apple iPhone 7, Apple iPad, Huawei Y5, Huawei Y6, Huawei Y7, Huawei nova, Huawei P10, Huawei P20, Huawei P30, Infinix S4, Infinix Smart 5, Infinix Smart 6, Infinix Hot 7, Infinix Hot 8, itel A16, itel A33, itel A56, Nokia 2.1, Nokia 2.2, Nokia C1, OPPO A3s, OPPO A5s, OPPO A1K, Safaricom NEON RAY, Samsung Galaxy A01, Samsung Galaxy A10, Samsung Galaxy A10s, Samsung Galaxy A11, Samsung Galaxy A20, Samsung Galaxy A21s, Samsung Galaxy A30, Samsung Galaxy A40, Samsung Galaxy A50, Samsung Galaxy A51, Samsung Galaxy A70, Samsung Galaxy A71, Samsung Galaxy Grand, Samsung Galaxy J5, Samsung Galaxy J7, Samsung Galaxy S7, Samsung Galaxy S8, Samsung Galaxy S9, Samsung Galaxy S10, Samsung Galaxy S20, Samsung Galaxy J2, Samsung Galaxy J4, Samsung Galaxy Note8, Samsung Galaxy Note9, Samsung Galaxy Note10+, Tecno Pop 2, Tecno Pop 3, Tecno Camon 11, Tecno Camon 12, Tecno Camon 13, Tecno Camon 14, Tecno Camon 15, Tecno F1, Tecno K7, Tecno Spark 2, Tecno Spark 3, Tecno Spark 4, Tecno Spark 5, Tecno Pouvoir 2, Tecno Pouvoir 3, Vodafone 100, Vodafone Smart Kicka 4, Xiaomi Redmi Note 7, Xiaomi Redmi Note 8, Xiaomi Redmi Note 9
Bovada Betting App Bonuses
Members of Bovada will have plenty of generous promotions to choose from. Even those who have decided to place their bets through the mobile version of the sportsbook will still have access to the entire promotion selection of Bovada. If you are a new member of the bookmaker and you have decided to use cryptocurrencies for your mobile betting, you will be able to redeem a bountiful Bitcoin Welcome Bonus.
To be able to qualify for this offer, you will need to use the promo code BTCWB750 when you make your first BTC or BHC deposit. This will unlock a 75% Bonus that can award up to $750 that can be used for your sports betting on the go. The Bitcoin Welcome Bonus can be used in the Sportsbook, Racebook, and the Casino sections of Bovada.
Wagering requirements
You will need to meet certain wagering requirements if you want to withdraw your bonus funds. The Bitcoin Welcome Bonus comes with wagering requirements of 5x on sports, 5x on horse racing, and 30x on casino games. These wagering requirements apply to the cumulative amount of your first deposit and the bonus you have received.
Those who do not deposit via Bitcoin will still have a chance to redeem a Sportsbook Welcome Bonus and enjoy up to $250. This 50% Match Bonus is available only on the first deposit of new Bovada members and also comes with wagering requirements that need to be met prior to withdrawal. The rollover requirements for the 50% Welcome Bonus are 5x on sports, 5x on horse racing, and 30x on casino games. The wagering requirements apply to both the qualifying first deposit and the bonus amount.
As you bet on the go, make sure to regularly check the other promotions of Bovada as you can often redeem different generous promotions. This way, you can make your betting experience on the go even more rewarding and fun.
Bovada App Bonuses
Bonus
Key terms
75% Bitcoin Welcome Bonus
Offer applies to first deposit via BTC or BCH, promo code BTCWB750, max bonus $750, bonus can be used on sports, horse racing, and casino, wagering requirements of 5x on sports, 5x on horse racing, and 30x on casino games, wagering applies to deposit + bonus
50% Welcome Bonus
Offer applies to first deposit only, max bonus $250, wagering requirements of 5x on sports, 5x on horse racing, 30x on casino games, wagering applies to deposit + bonus
Refer a Friend
Referring Bovada members will receive a 200% Bonus up to $100, Refer-a-Friend Bonus must be wagered 5x on sports, 5x on horse racing, 30x on casino games, 30x on poker, referring members must have at least one successful min deposit of $20, referring members who have deposited via Bitcoin enjoy an extra $25 Refer-a-Friend Bonus, wagering requirements of 5x on sports, 5x on horse racing, 25x on casino games, 25x on poker
Bovada Betting App Markets
Those who switch to the mobile version of Bovada will still be able to bet on numerous sporting events, choosing from a wide range of popular sports. When you load the mobile sportsbook, you will notice that the current trending events will be available at the top part of the page. If you are interested in the top matches that are currently played worldwide, you can check the odds in this section of the sportsbook.
One of the top sports you can bet on as a member of Bovada is basketball, giving fans of the game plenty of betting options. The standard moneyline is among the obvious options one could enjoy whenever betting on their smart device. Punters can also choose to bet on the results of the first half, second half, or quarter game. Team totals and different futures are also among the betting options that Bovada is offering.
Soccer
Soccer is another popular market covered by the sportsbook, allowing punters to bet on different major leagues. If you enjoy betting on soccer games, you can choose to view lines for certain games, the first half, or second half of a game. Other betting options include total corners, next team to score, both teams to score, team totals, and various futures.
Hockey
Hockey is also among the trendy betting markets that Bovada covers. You can find some of the best odds on events from different leagues such as VHL, NHL, and hockey games from different parts of the world. If you are browsing for lines, you can check the odds on certain games or opt for period lines, team totals, or different futures.
To make betting more interesting, the mobile version of Bovada also offers Live Betting to patrons of the sportsbook. Thanks to this option, bettors can place their money on sporting events as they happen in real time.
Bovada App Markets
Aussie Rules
Badminton
Baseball
Basketball
Beach Volleyball
Boxing
Cricket
Cycling
Darts
Entertainment
Esports
Football
Futsal
Golf
Handball
Hockey
Horses Futures & Props
Motor Sports
Numbers Game
Olympic Games
Politics
Prop Builder
Rugby League
Rugby Union
Snooker
Soccer
Specials
Table Tennis
Tennis
UFC/MMA
Virtual Sports
Volleyball
Winter Sports
Bovada Betting App Banking
Whenever you need to boost your betting balance, you can choose to initiate deposits even when you are on the move. The mobile version of Bovada supports the same payment methods as its desktop counterpart. Since it is catering to American bettors, the sportsbook allows its members to set up their accounts in USD. In addition to that, Bovada also accepts payments in BTC and BCH.
Depending on the deposit option that you choose, you may be charged a fee and the allowed minimum may vary. This being said, all available options will enable bettors to instantly top up their accounts.
Deposit
Most major credit/debit cards are accepted at Bovada, allowing punters to deposit via Visa, Mastercard, Amex, and Union Pay cards. While the sportsbook does not charge a fee for your first deposit via a credit/debit card, it is possible that the card-issuing company may impose some fees. The following deposits via this method may incur a fee of up to 5.9%. Punters will also have the option to top up their accounts via Visa and Mastercard gift cards. The deposit limits for credit/debit cards range between $20 and $1,500.
Credit/Debit Cards
While using credit/debit cards can be quite convenient, you can also resort to alternative methods. Voucher codes are a great way to instantly deposit into your Bovada balance. The sportsbook also allows its members to purchase vouchers from other punters in the Bovada community. Zelle is also a convenient deposit solution that US bettors can use for fast and secure payments. The service acts as a mediator between one's bank account and the virtual sportsbook and enables punters to instantly boost their betting balance.
Crypto
If the rest of the options do not seem suitable to you, you can also use cryptocurrencies that will be available for both deposits and withdrawals. Mobile sportsbook members can use Bitcoin and Bitcoin Cash for their Bovada payments. This option allows deposits of anywhere between $10 and $5,000. If you initiate a withdrawal via cryptocurrencies, you will be able to enjoy your money within up to 15 minutes after the cashout request is approved.
Withdrawal
An alternative method that punters can use for their withdrawals is via Check by Courier. Although this is a safe option to withdraw your money, however, it may take between 10 and 15 business days to receive your funds. In addition to that, while cryptocurrencies allow a withdrawal minimum of $10, a Check by Courier requires a withdrawal of at least $100.
Bovada App Banking
Method
Deposit
Withdrawal
Visa
$20 min, instant
N/A
Mastercard
$20 min, instant
N/A
Amex
$20 min, instant
N/A
Union Pay
$20 min, instant
N/A
Bitcoin
$10 min, instant
$10, up to 15 minutes
Bitcoin Cash
$10 min, instant
$10, up to 15 minutes
Check by Courier
N/A
$100, 10-15 days
Bovada Betting App Security
One of the most important things that you should be sure about while betting on the go is your safety. To ensure that punters are always properly protected, Bovada is using the latest industry-standard security tools and software. The data that is shared between bettors and Bovada during payments are protected via SSL encryption that ensures that unauthorized individuals will not have access to punters' sensitive information.
Although Bovada is mainly catering to US bettors, it has obtained a license by the jurisdiction of Curacao. This means that punters who reside in states that have legalized sports betting, will not be able to bet at Bovada. Since states that allow sports betting require operators to obtain licenses from the respective jurisdictions in the US, Bovada remains accessible only for some residents of the USA.
To be able to join the sportsbook and place bets on various sporting events, you will need to be at least 18 years of age. If the legal gambling age in your country of residence is higher than 18, you should comply with the laws within your jurisdiction. In addition to the states that have legalized sports betting, there are other territories that are restricted by Bovada. These include countries with strict laws that do not allow their residents to participate in the betting experience offered by this sportsbook.
Before you join Bovada, make sure you are familiar with the gambling laws within your country and you comply with them.
Bovada App Security
Passcode
No
FaceID
No
Two-factor authentication
No
Bovada Betting App Customer Support
If you are having questions about your experience at Bovada, you can quickly find plenty of useful information on the Help page of the sportsbook. Even if you did not find the answers you were looking for, you can resolve any issue by simply contacting the support team of Bovada.
There are a few convenient ways to reach the support agents of the sportsbook and ask the questions that concern you. If the information on any section of the Help page was not enough, you can choose to either send an email to the support team or chat with a Bovada agent. Below each page on the Help section, you will notice a question asking if the provided information was enough. If you select "No" as an answer, you will see all contact options.
You can opt for the chat option if you want to solve any issue quicker as you will be able to speak to a Bovada representative in just a few seconds. Meanwhile, those who are not in the mood to chat, can opt for sending the support team an email. You can choose to do that directly from the form provided on Bovada's website or send your inquiries at service@bovada.lv.
Another great way to find useful information is to check the Bovada community where other users provide answers based on their personal experiences with the sportsbook.
Bovada App Support
Phone
No
Live chat
Yes
Email
service@bovada.lv
Bovada Betting App Verdict
Bettors have the chance to experience a wonderful betting time at Bovada as they will find some of the best odds on numerous popular sporting events. To allow its members a smooth and fun betting experience on the go, Bovada has been fully optimized to run on almost any mobile device. This way punters can bet on their favorite sporting events wherever they go. The mobile bookmaker also offers great promotions and helps bettors to manage their funds with just a few taps on the screen.
With multiple markets and plenty of betting options, Bovada allows betting enthusiasts to choose from the most competitive odds across numerous sportsbooks and enjoy a wonderful experience at any time and place.