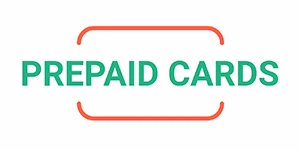 Prepaid cards have been around, in some form, since the 1970s, and although they were a fairly popular way to buy products at brick-and-mortar shops, the mass adoption of the internet is what makes prepaid cards truly shine as a financial solution. Today, they stand out as one of the most simple and convenient ways to shop online, and casino mavens have also found prepaid cards to be an excellent option when it comes to remote gambling.
Remote casinos, in particular, were quick to adopt prepaid cards as a viable payment option, and lovers of casino games have come to expect that any potential casino they consider playing at accepts at least one prepaid card solution as a deposit method.
If you ever consider utilizing a prepaid card online, it is crucial to know that there are two main types of prepaid cards you can go for. The first prepaid card variation is the disposable prepaid card. It comes with a finite amount of money, and using up all of the said funds will result in you needing to buy another card. Reloadable prepaid cards, on the other hand, are the other prepaid card solution you will run into. These cards can be used long-term, and you can top them up whenever you wish. Choosing between the two options is usually a matter of personal preferences, as both have proven to be a very reliable way to fund one's casino account.
Top 15 Online Casinos Accepting Prepaid Cards
How Prepaid Cards Function?
Prepaid cards are considered to be one of the easiest payment solutions to work with when it comes to online gaming. There are two major types of prepaid cards players can go for, the first of which are dubbed reloadable cards.
Reloadable prepaid cards, or virtual cards as they are often called, are essentially Visa and Mastercard cards you own for prolonged use. They bear a resemblance to traditional debit cards, but they are not tied to your bank account. In fact, you do not even need a bank account to own and use one, which is part of what makes them so convenient.
In order to use such a card, you simply need to load it with funds and then make it your payment method of choice whenever you gamble at online casinos. Unlike credit cards, virtual cards can only be used if you have added money to the card in question. In other words, such cards make it easier to avoid overspending while playing games of chance on the web.
The other major type of prepaid card is the so-called disposable card. Such cards come in the form of vouchers and PINs, and as their name suggests, they cannot be reloaded with more funds once you have used up all the money in a given card. It is very easy to get ahold of such a card, seeing as prepaid cards are sold at local brick-and-mortar merchants, and you can also purchase them on the web.
Prepaid cards are typically deposit-only financial solutions when it comes to online gambling, but many of the companies that issue such cards also offer solutions that are withdrawal-friendly.
Video Explaining How to use Prepaid Cards
Opening an Prepaid Card Account
Prepaid cards themselves typically do not require that you register at your prepaid card provider's website. There are certain cases, however, where it can be worth it to create an account, seeing as you will gain access to extra features. Neosurf is a great example of a payment solution that does have a registration process that unlocks additional features for users with an account. The steps you need to take in order to create a Neosurf account are laid out below.
You can start by paying a visit to Neosurf's official website. Once there, click the Log-in / Register button.

You will be presented with the option to either log in or sign up. Choose the latter, provide your email address, and create a strong password. After solving the captcha, click Next.

What follows is verifying your email. To do so, simply open your inbox and click on the link provided in an email by Neosurf.

The next step of the registration process involves providing all of the necessary information requested by Neosurf. This includes data such as your gender, full name, address, phone number, and date of birth. Once you are finished and have made sure that all the information is correct, agree to the terms and conditions of Neosurf and click Send. This will take you to your myNeosurf page, and with this, your registration is complete.

Prepaid Card Account Verification
The vast majority of online services that involve money management of some kind will require their users to undergo identity verification, and companies that offer prepaid cards are no exception. This is done for security reasons, and it is not too dissimilar from how remote casinos also need you to verify your identity. In addition, verifying your details will often give you access to higher limits. The good news is that account verification is not too complex or difficult to execute, and to showcase this, we will once focus on Neosurf as an example.
To verify your Neosurf account, you will first need to log in. To do so, visit Neosurf's website, and follow the link dubbed Log-in / Register.

Next, remain on the log in tab, and write your email and password. After you solve the captcha, click Submit.

You will then find yourself on the homepage of your myNeosurf. In order to verify your account, click the cog icon, which is located next to the Logout button. This will take you to the Settings page.

Here, you will be presented with three tabs, and the one you need to click on is dubbed Documents. You will then be presented with the personal details you provided during the registration process. If you notice that the information is not correct, you can edit it. If everything is in order, you can send your proof of address document. There are several types of documents you can send, the first option being your last mobile bill. Alternatively, you can send a photo of your internet bill, electricity bill, or another document that serves as proof of address. Finally, follow the instructions of Neosurf's customer support, and send any additional documents as requested.

Funding your Prepaid Card Account
As established, these are several types of prepaid cards. If you plan on going with a disposable prepaid card, then you are in luck, as this will completely forgo the process of funding your account or card with money. Instead, disposable cards are already preloaded with money when you purchase them. Basically, the end user can start using the card for online gaming as soon as they get their card. The size of the card or vouchers that can be bought depends on the entity providing such services. For instance, Neosurf vouchers typically range between $10 and $100.
If you prefer the convenience of a reloadable card, then funding the said card is necessary, but the process is simple. If you opt for a Revolut prepaid card, for instance, all you need to do is log into your account, click Add Money, input the amount of money you wish to deposit, and choose the top up method. The process is similar when it comes to reloadable cards offered by traditional banking institutions, although you might also find that there are additional options in terms of the top up methods.
Depositing to Your Online Casino Balance
One of the most important things any gaming enthusiast needs to do whenever they create an account at a casino is to fund their account. This is what will enable the said user to play with real money, after all, and depositing via prepaid cards is often considered to be one of the easiest options a player can go for.
Depositing to your Balance via Disposable Prepaid Cards

Indeed, funding one's casino account via a disposable prepaid card or voucher is very quick and easy. Usually, you will be able to find your specific brand of prepaid card within the Deposit or Cashier section of your casino. For instance, if you have gotten your hands on a Neosurf card, you will look for a deposit option with the Neosurf logo. Then, input the amount of money you wish to deposit, and once you initiate the deposit, you will be redirected to Neosurf's portal. Here, you just have to input the code on your Neosurf voucher, click Pay, and you are good to go.

Typically, disposable prepaid cards can be used multiple times, but only until there is no balance left in the card in question. Paysafecard and Neosurf PINs and vouchers function like this. Once you have used up all the money in a disposable card, the card can no longer be used or reloaded, and you will therefore need to get another card the next time you decide to make a deposit.

Depositing to your Balance via Reloadable Prepaid Cards

This type of prepaid solution is far more similar to using your run-of-the-mill bank card for deposits, making it another convenient choice for gambling mavens looking to easily fund their casino accounts.

A popular reloadable prepaid card service is Revolut, and since its cards are powered by Visa and Mastercard, you will need to pick the Bank Card option when you navigate to your casino's cashier. Then, input the card's number, the CVC or CVV number, your name as is written on the card, and the expiry date, and proceed with the deposit.
Withdrawing from Your Casino Balance
Gambling enthusiasts looking to withdraw their winnings via a disposable prepaid card solution will, unfortunately, be unable to do so. The cards in question cannot be topped up with money, and the only usable funds in such cards are what they come with. With this in mind, casino players will need to prepare an alternative withdrawal solution if they deposit via such a card.
Fortunately, the reloadable Visa and Mastercard cards that are tied to an online banking solution like Revolut are not in the same situation. Withdrawing via such cards is always an eligible option to go for whenever a casino accepts bank card withdrawals. The process itself is, too, just as simple as using an ordinary bank card. Simply go to the withdrawal menu of your casino account, pick the option that allows for bank card withdrawals, and input your card's details.
We should also mention that while the disposable cards themselves are not viable withdrawal methods, certain entities that sell prepaid cards do offer additional services that can be utilized for cash-outs. Paysafecard, for instance, has myPaysafe, a service that resembles a digital wallet and is an accepted withdrawal method at certain remote casinos. Do keep in mind that having a myPaysafe account is required for this to be possible, however.
Prepaid Cards Costs and Fees
Remote casinos will seldom attach any costs to deposits and withdrawals, although you can potentially run into exceptions. For this reason, all gaming devotees are advised to read a casino's terms and conditions in case such costs are imposed. If you find that locating this information on your casino's website is difficult, you can contact customer support.
Seeing as there are many prepaid card services out there, the fees you could potentially incur will vary depending on the specific prepaid solution you have chosen. Paysafecard users, for instance, will not need to pay anything to Paysafecard whenever they deposit into their casino balance via this payment method. If a player neglects to use their card for 24 months, however, the card in question will be subject to a monthly service fee. This means that the user will incur a $2 fee each month, and this will continue until there is no money remaining in the PIN.
If you opt for a reloadable card that is tied to an account, you could potentially need to pay service fees if you wish to go for paid plans. Revolut, for instance, has a Premium plan and a Metal plan, which cost $9,99 and $16,99 per month, respectively. In addition, getting a replacement card when necessary will cost extra if you are a Revolut user. Revolut does not charge an inactivity fee, but this type of fee can be a concern when it comes to other reloadable prepaid card solutions.
Other potential fees you need to look out for when using any prepaid card service are potential currency conversion fees and costs that are tied to ATM withdrawals. These, again, are dependent on your specific service.
Security and Privacy
There are plenty of reasons gaming enthusiasts often turn to prepaid cards whenever they wish to fund their casino account, but one aspect of prepaid cards that makes them particularly appealing to individuals is just how secure this payment method type is. Disposable prepaid cards, in particular, are not tied to any financial accounts. Instead, users can buy them at any eligible land-based or online merchants, and utilizing the said voucher or PIN for transactions simply involves using the code that comes with your prepaid card. This eliminates the need to provide casinos and merchants with your bank account information, credit or debit card information, and the like. In addition, this is also why prepaid cards are considered to be excellent for privacy-oriented individuals.
In general, the codes of your prepaid cards and vouchers are secure, and it is not possible for any of your prepaid cards to be hacked by third parties. So long as you do not share your code with other individuals, never include your code in emails and other means of communication, and practice caution when you decide which online merchants and casinos to go for, your disposable cards will be safe. If you ever suspect that your voucher or PINs security has been compromised, however, the vast majority of prepaid card providers will block your card or voucher if requested. Certain prepaid card issuers, especially ones that focus on reloadable cards, will also offer to freeze your account, which is something that can later be reversed.
As established, there are prepaid card services that also offer user accounts, and the said accounts are protected in various ways. Two-factor authentication, for instance, is a standard feature, and most companies also allow for logging in via biometrics.

Related Banking Methods
Advantages of Using Prepaid Cards
Prepaid cards have taken the iGaming world by storm, and for a good reason. There are many aspects of prepaid cards that make them an excellent financial solution for many casino enthusiasts, the first of which is the level of privacy and security prepaid solutions ensure. Disposable prepaid cards and vouchers have no ties to your bank account or your debit and credit cards, which means that there is no chance for the transactions to have any effect on your bank account.
Advantages
Prepaid cards are widely avialble in the iGaming sphere
Excellent security
Prepaid cards can be purchased both online and from land-based shops
Mobile-friendly
Low fees
Prepaid cards are a viable banking solution in many countries
Another excellent aspect of prepaid cards is the fact that the limits of the vouchers and PINs are, for the most part, relatively modest. A single Paysafecard PIN, for instance, will not exceed $100, and there is even a limit of $300 when the usage of multiple PINs is concerned. This makes it very easy for casino enthusiasts to gamble responsibly and avoid overspending whenever they play casino games online. It also means that prepaid cards are a very convenient option for recreational players who simply do not need higher limits.
Another aspect of using prepaid cards that users are very appreciative of is the fact that prepaid cards are practically a staple in the vast majority of online casinos. In fact, gambling aficionados will seldom run into a remote gaming website or application that does not accept disposable prepaid cards or vouchers when it comes to deposits. Reloadable prepaid cards are even more widespread. Since such cards are typically tied to VISA and Mastercard, any casino that supports deposits or withdrawals via bank cards does also accept reloadable cards by default.
Disadvantages of Using Prepaid Cards
One cannot deny that there is a lot to like about Prepaid Cards, but like any payment solution out there, they are not without their flaws. The first such potential problem is tied to the tight limits of most prepaid card solutions.
While a limited amount of money that can serve as a bankroll is not a problem for casino players who play mainly for entertainment, the same cannot be said about high rollers. Even the highest prepaid solutions will not result in a sufficient bankroll for players who like to make bold wagers, and they will typically need to look for a different solution that will better cater to their preferred approach to gaming.
Disadvantages
Not suitable for high rollers
Potential fees
Prepaid cards cannot be used for withdrawals
Certain casino enthusiasts will also be disappointed with how prepaid vouchers and pins are, in and of themselves, not eligible for withdrawals. If you do wish to withdraw via the services offered by prepaid card issuers, you will usually need to create an account and utilize the said services as a digital wallet or a banking institution.
Disposable prepaid cards may also be considered cumbersome to use by some, seeing as their limited capacity will necessitate purchasing a new card each time you wish to make a deposit. This essentially adds a second step that must be taken before depositing at your casino, as opposed to deposits via debit cards or credit cards.
Finally, we should also mention that prepaid cards are not without fees, at least not completely. Certain prepaid card solutions will charge users for inactivity, while others will attach fees to the account usage of a user. As mentioned earlier, currency conversion fees can also be a concern.
Conclusion
At the end of the day, prepaid cards are suitable for many gaming enthusiasts looking to easily top up their casino accounts. They can be bought from many sources, both online and land-based, and the vast majority of remote gaming websites support transactions via prepaid cards. Although they are not considered to be suitable for gamblers who enjoy risking a large amount of money whenever they play online, prepaid cards are perfect for recreational gaming enthusiasts that have a cautious playstyle.
Prepaid cards are known for being a secure banking solution, and making deposits via prepaid vouchers and PINs is a simple matter regardless of whether you are playing at a desltop casino, or wagering on your casino's smartphone app.