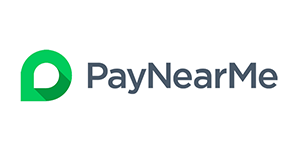 Launched in 2009, PayNearMe is a US-friendly payment solution that allows even consumers who do not have a traditional bank account to make online payments. Its operating company, PayNearMe MT, Inc., is a subsidiary of Handle Financial, Inc. Initially, the main idea behind the payment method was to provide people with an easy and fast way to pay at retail stores such as 7-Eleven.
But the payment solution has quickly gained popularity. At the moment, billions of dollars are processed via PayNearMe every year. The company behind the payment method collaborates with over 27,000 locations in the US. You can use PayNearMe to pay your utility bills at any CVS or Family Dollar location. The payment solution processes transactions instantly, making it convenient for various online purchases, including gambling-related payments.
In the United States, each state has enacted different laws regarding the legality of gambling and sports betting. PayNearMe supports gambling-related payments only in states that legalized sports betting, including Nevada, New Jersey, Pennsylvania, Delaware, and others. Many punters prefer to use PayNearMe to top up their accounts because the payment solution is safe, and deposits are processed immediately.
How PayNearMe Functions?
Using PayNearMe to pay your utility bills or deposit funds to your sports betting account is a hassle-free process. Whenever you want to make an online payment via PayNearMe, you should select it as a preferred payment solution from the website of the merchant.
Since PayNearMe does not hold your money, you will be asked to select a payment option you want to use for the transaction. You can pick from a bank account, debit/credit card, and cash. PayNearMe has joined forces with major mobile wallets such as Google Pay and Apple Pay, so using any of these services to pay is also an option. For bank account and bank card payments, you will be required to provide your account details, payment information, and contact information.
If you do not have a bank account, you can pay in cash at any of the partner retail locations nationwide. Given that you select this payment option, you will be assigned a barcode. You can either print it or show it to the store clerk on your phone. Note that if you do not want to print the barcode, you should choose to use your mobile phone and you will receive a link with the barcode via email or text message.
The clerk will scan the barcode and tell you the amount of money you owe. Once the retailer authorizes the payment, it will be processed right away. With over 27,000 payment collection points, you will always find a convenience store close to you.
Opening a PayNearMe Account
Consumers who want to use PayNearMe for online payments do not have to register with the payment service. This makes the payment solution even more convenient because you do not have to memorize additional login credentials. A praiseworthy aspect of the payment method is that you can use even your smartphone to initiate a payment. Consumers do not have to install some bulky apps to use the payment method. If you are interested in PayNearMe, you can learn how to use the payment solution by requesting to watch a demo video.
Business owners can enhance their payment experience by setting up a PayNearMe business account. By using PayNearMe, merchants can encourage customer engagement and on-time payments. As a businessman, you can transfer funds via API or directly from your PayNearMe Business Portal to customers. The payment service offers plenty of benefits for business owners.
Depositing to Your Sportsbook Balance
As mentioned above, PayNearMe can be used for gambling-related payments. Many reputable online sportsbooks geared toward the US market accept deposits via PayNearMe. If you want to fund your sports betting account via PayNearMe, you have to make sure that the betting platform supports this payment solution.
Afterward, head to the virtual cashier and click on the Deposit button. You will see a list of all available payment options. Click on PayNearMe to select it and enter the preferred deposit amount. Enter a bonus code if applicable and select the Generate PayCode button.
Then, you will be redirected to the PayNearMe official website where you will find your barcode. After that, you can either go to the closeby 7-Eleven store to pay the sum in cash or use your bank account, credit/debit card, or mobile wallet to make the payment. If you lose your PayCode, you can generate a new one. Another crucial thing to note is that you do not have to generate a new barcode every time you want to top up your sports betting account because the PayCode is reusable.
Punters have to keep in mind that the maximum they can deposit within 24 hours is $500, while the minimum limit on deposits is usually $10.
Withdrawing from Your Sportsbook Balance
Up until recently, withdrawing via PayNearMe was not possible. Punters had to resort to alternative payment solutions to cash out their sports betting profits. But in November 2021, the payment solution announced that it has entered into a partnership with the fintech company Pin4 to provide sports fans with the opportunity to withdraw their winnings easily and safely at more than 18,000 ATMs across the country.
Sports fans who want to withdraw their winnings via PayNearMe have to provide their phone numbers and enter the amount they wish to cash out. Once the bookmaker processes the withdrawal request, punters will receive a text message with a four-digit number and information about the timeframe for withdrawing the funds.
After that, they will receive another text message with a link. Punters have to follow the link to see the closest ATMs that they can use to cash out the money. Sports fans have to enter their mobile phone number, the four-digit code, and the withdrawal amount to withdraw their winnings. However, online sportsbooks are yet to add PayNearMe to their list of withdrawal solutions.
Cost and Fees
Most online sportsbooks do not impose fees on deposits via PayNearMe. However, we advise our readers to check the sportsbook's policy regarding payments. Although PayNearMe is touted to be a budget-friendly payment solution, it is not fee-free. But you do not have to fret over the fees because these are clearly displayed once you initiate a transaction.
Fees vary between the different payment options and the sum you want to transfer. But we cannot provide our readers with exact details about the fees because such information is absent from the PayNearMe official website. According to the company, 70% of the service providers charge $1.99 for depositing via PayNearMe. The maximum fee that might apply is $5.99.
Security and Privacy
PayNearMe is a safe payment solution that provides even customers who do not have a bank account with the opportunity to make online payments. Since PayNearMe gives its users the option to pay in cash, consumers can pay online without disclosing their sensitive information.
Even if you lose your barcode after you have already topped up your sports betting account, nobody can withdraw the funds from it because specific information available only to you has to be provided.
If you use PayNearMe to load funds to your sports betting account, you will receive a receipt for the transaction. Thus, you can prove that you paid the money if the funds do not appear in your betting account. Furthermore, you can check the status of your payment by following this link https://home.paynearme.com/track-a-payment/.
PayNearMe uses a sophisticated 256-bit SSL encryption algorithm to protect its website from cyber-attacks. The payment platform embraced tokenization technology. This means that sensitive data is turned into non-sensitive information. Hence, you can rest assured that your vulnerable information cannot fall into the wrong hands.
PayNearMe holds licenses to operate in different states, meaning that the payment solution is regulated and there is no risk of fraud. A list of the licenses PayNearMe holds is published on the official site of the payment solution.
Advantages of PayNearMe
Many US punters use PayNearMe because the payment solution is safe and licensed by state authorities. Once you load funds to your sports betting account, you can place a wager immediately because deposits are processed right away.
Next to that, you are not required to disclose your banking credentials, adding an extra layer of security. You can pay in cash at retail stores. And if you do not want to leave the comfort of your home, you are provided with alternative payment options, including a bank account, debit/credit card, or mobile wallets.
PayNearMe is not only safe and convenient but also extremely easy to use. You are unlikely to encounter any difficulties when using this payment solution. And if you have questions, PayNearMe has an outstanding customer support department. You can contact the courteous customer support agents by email or phone. Note that you have to provide the customer support representatives with the exact transaction details, so they can assist you.
Until recently, punters could use the payment solution to deposit funds only. But since the beginning of 2022, the payment solution has started offering ATM cash withdrawals. And consumers are not required to have an ATM bank card to cash out funds. The withdrawal process is straightforward and safe.
PayNearMe helps punters to keep their bankroll in check. Various studies show that people tend to be more careful about their budget when paying with cash instead of when using their debit/credit card. Furthermore, credit cards hide the risk of racking up debts.
PayNearMe is a cost-effective payment solution. Most online sportsbooks do not charge their bettors for depositing via PayNearMe. The payment solution applies fees to some financial operations, but luckily, the prices are affordable.
Disadvantages of PayNearMe
The payment solution will correspond to the needs of sports fans who want to keep their spending in check. But if you are a high-roller and you intend to deposit more than $500, PayNearMe is not the payment solution for you.
Another downside of the payment solution is that it serves the needs of US consumers only. Therefore, it supports only one currency – USD. Furthermore, sports fans might have a hard time finding a betting site that supports PayNearMe. And if you do not want to disclose your banking credentials, you have to find a participating retail shop where you can pay in cash.
Consumers can use PayNearMe for transactions in both directions. But at the moment, the online sportsbooks that allow their punters to cash out winnings via PayNearMe are few and far between (if existent at all). That is because the payment solution recently expanded its services. But we are sure that it is only a matter of time for online sportsbooks to add PayNearMe to their lists of withdrawal solutions.
Conclusion
PayNearMe is a safe payment solution that caters to the needs of US consumers. Many US punters residing in states that regulated online sports betting use PayNearMe to deposit funds to their sports betting accounts. That can be attributed to the convenience and safety this payment solution offers. PayNearMe is the perfect payment method for people who do not have a bank account or are reluctant to disclose their banking credentials.
Although the payment solution charges some fees, you do not have to lose your sleep over that because the fees are low. PayNearMe is an excellent payment solution for bettors who find it difficult to manage their bankrolls. Deposits are speedy, which is yet another reason to select PayNearMe as a preferred payment method.