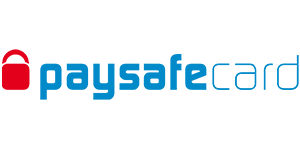 While online betting gains huge popularity among punters from all over the world, handling one's betting balance may be challenging at times. When making real-money bets online, it is important to be able to easily manage your funds. While there are often different ways to top up one's betting balance, there are some methods which are safer than others. When it comes to hassle-free and secure deposits, paysafecard has definitely gained a lot of popularity among virtual bettors from all around the world.
Thanks to paysafecard, punters have the chance to instantly boost their sportsbook accounts. The best part is that this payment method has many advantages which protect punters while they are making bets online. Using paysafecard is extremely easy and finding a sportsbook which accepts this payment solution is extremely easy.
Even though paysafecard is a method that can only be used for deposits at interactive bookies, it is still one of the most preferred payment solutions across numerous sportsbooks. Utilizing paysafecard is a rather budget-friendly option and it gives bettors a certain control over their spending. Thanks to the mobile application of paysafecard, punters can enjoy even an easier real-money betting anywhere they go.
How Does paysafecard Function?
All that punters have to do is purchase a paysafecard PIN code which can be bought from more than 600 000 retailers, located all over the world. When they want to top up their sportsbook balance, bettors will simply have to enter the 16-digit PIN they have purchased. In addition to utilizing vouchers, however, paysafecard users will also have access to several other products.
paysafecard Vouchers
If you are not sure where you can buy a paysafecard voucher, you can head to the official website of the company. There, you will have to choose your location from the search bar and the website will show you all the retailers that are near you. There are several denominations you can choose from, including prepaid cards of 10, 30, 50, 100, 150 and 250 $/£/€ or other currency equivalents.
Since punters do not need to expose their bank or card details when using paysafecard, this payment method is considered extremely convenient and safe. While bettors do not need to open an account in order to utilize their paysafecard PINs, they can enjoy many perks if they decide to create a my paysafecard account.
Prepaid cards by paysafecard can be found at 46 countries around the world and the available denominations may vary according to the specific currencies used in different countries. Even if you do not spend the entire amount available on the prepaid card you have purchased, the excess will remain in your paysafecard voucher and will be available for any payment in the future. It should be noted, however, that if you still have some funds remaining in the voucher after a period of 13 months, you will be charged a fee of $2 or its equivalent in other countries.
Even if you are not sure about your balance, you can easily check the available funds on your paysafecard on the official website of the service. All that you will need is to enter the 16-digit PIN of your voucher. If you, however, have created an account, you will be able to easily keep track of your available funds. If you would like to combine your PINs, you can absolutely do that and deposit higher amounts at sportsbooks. This way you can also utilize any remaining balance to your old paysafecard vouchers and combine them with the new PINs you have purchased.
Mobile App
In order to help its users to have constant access to their paysafe account, the service has also a dedicated mobile app. This way punters can easily find any retailers nearby or check their remaining balance even when they are on the go. If you are using the app, you can simply scan the QR code of your voucher and its value will be added to your paysafecard balance.
Utilizing the mobile app will also not jeopardize your safety, as the mobile app allows you to log in either by a fingerprint scan, a 2-step authentication or simply with a username and a password. The app is available for both iOS and Android users and it can be found at the respective app stores.
In order to use the app, you will have to either open an account via the app or use your already existing one to log in. This will grant you instant access to your funds wherever you are. Thanks to your portable device, you will be able to track your transactions even on the go. You will also see the PINs you have uploaded to your account and your remaining balance.
paysafecard Mastercard
Since paysafecard is also offering a Mastercard prepaid card, punters can make use of this product and make fast deposits at any sportsbook that accepts payments via Mastercard-branded credit and debit cards. Requesting your paysafecard Mastercard is extremely easy and can be done by accessing your account.
After purchasing your Mastercard, it must be activated. It should be noted that the first annual fee for the card is deposited using your my paysafecard account. The paysafecard Mastercard is extremely useful for purchases online, including making deposits at interactive sportsbooks. In addition to that, it can be used for contactless payments. On top of that, considering the fact that it is a type of prepaid card, it allows users to make safe payments and still have control over their funds.
Just like any credit/debit card, paysafecard Mastercard can be used for withdrawals at ATMs. It also utilizes strict security measures to make sure that your money is protected and you can enjoy safe payments online and at various shops, restaurants and hotels. Unfortunately, paysafecard Mastercard is not available in every country that supports paysafecard.
Opening an Account
While punters can choose to simply buy paysafecard PINs and use them for the boost of their online betting balances, they can also opt for opening a paysafecard account. This will allow them to always be on top of their funds and they will not need to enter PINs when trying to pay via paysafecard.
Signing up is extremely easy and punters can choose to do it either through the website of paysafecard or through its mobile app. When you decide to open your account, you will be asked to provide information such as your name, physical address, phone number and email address. There is an age restriction for users who are eligible to open an account and it may differ according to the jurisdiction where they reside. After creating their paysafecard profile, new users will be asked to provide a copy of their ID which will verify their identity.
After they have created their paysafecard account, punters can add the PINs they have purchased and this will top up their balance. Later on, they can easily make deposits by simply entering their username and password, instead of entering the entire 16-digit PIN. You can easily combine PINs and whenever you choose to make a deposit at a sportsbook of your choice, the sum will be transferred automatically from your oldest PIN. This way you can be sure that your prepaid cards will not expire even if you are not directly entering the PINs when depositing via paysafecard.
Signing up is completely free and it allows new users to make use of the Standard paysafecard perks. If they wish to enjoy advanced options such as more frequent payments or higher limits, account holders can upgrade and gain Unlimited status.
In addition to making payment easier by using your paysafecard account, you will also automatically enjoy the perks of the loyalty programme that is available to account holders. Every time you resort to paysafecard for your purchases online or deposits at sportsbooks, you earn points. You can, later on, redeem these points for various rewards available at the my PLUS Shop.
You can even recommend your friends to open an account at paysafecard. For each friend of yours who opens a my paysafecard account and uses it for a payment, you will receive 25,000 PLUS points that can be used at the my PLUS Shop and 25,000 Level points that bring more perks to paysafecard users.
Depositing to Your Sportsbook Balance
If you have chosen to top up your betting account via paysafecard, you will have no issue doing so as it is a very easy process. When you head to the Cashier of the sportsbook where you bet and select the option to deposit, you will see all the payment options you can utilize. You should select paysafecard from the list of deposit solutions.
Choosing paysafecard as your preferred payment method will redirect you to another window. There, you will see a link which can show you all the retailers near you where you can buy paysafecard vouchers. If you have already purchased your vouchers, you can move to the next step. You will see a section where you should enter the 16-digit PIN you have bought. Since paysafecard PINs can be combined, you can also select the option to add more pins which will allow you to deposit a bigger amount.
Once you have entered all the PINs, you should enter the sum you would like to deposit. After this, you are ready to confirm the transaction. Deposits via paysafecard are instant which means that you will be ready to bet on your favorite sports right away.
Withdrawing from Your Sportsbook Balance
Unfortunately, paysafecard cannot be used as a withdrawal option. This is why punters will have to look for an alternative method when they wish to request a cashout at the sportsbook of their choice.
Cost and Fees
While paysafecard is a rather cost-friendly payment method, there are still some fees that punters should be aware of.
As it was said earlier, if punters still have not used all the funds in their voucher within the period of 13 months, they will be charged a maintenance fee of $2 or its currency equivalent. Depending on the country of residence of punters, the aforementioned period may be longer than 13 months. If paysafecard users request a refund, they will have to pay a fee of $7.50. If you happen to make your sportsbook deposits in a currency different than the one of your paysafecard voucher, you will also be charged a conversion fee. There is a currency converter on the official website of paysafecard which allows punters to see what will be the fee they might be charged when making a deposit in various currencies.
Since all of the fees mentioned above may be different in the country of your residence, you should head to the official website of paysafecard, select your jurisdiction and check the correct fees that may apply to you.
The cost of using paysafecard is also very low and it allows its users to enjoy a budget-friendly payment solution. The annual fee is €9.90 or its equivalent in other currencies while uploading funds to the card will impose a fee of 4%. Whenever cardholders initiate a withdrawal at an ATM, they will be charged a fee of 3% while payments in foreign currencies will cost a fee of 2%.
Security and Privacy
One of the biggest advantages of paysafecard is the high level of security it provides. This is the main reason why so many punters have decided to resort to this payment solution when they are making deposits at virtual sportsbooks. The payment process of paysafecard does not require providing any information about credit/debit cards or bank accounts. This automatically eliminates the danger of exposing sensitive data to the website where you bet.
While punters must be careful not to share their PINs with anyone in order to prevent any abuse with their money, paysafecard itself has taken some measures to enhance the security of the payment method. If you notice any fraudulent activity, you can lock your PINs. This way no one will have access to them or steal your money. It should be noted that once your PINs are locked, they will not be available for use. You could, however, request a refund for the remaining balance in your my paysafecard account.
Another measure that paysafecard has taken in order to improve its security is protecting the PINs from hacking. There is no possibility of your PINs being hacked by a generator or changing the amount that is charged on your paysafecard vouchers. Users must be aware that if there are companies claiming to be able to hack their PINs via software and increase the amount that is available on users' accounts, this is an attempt to scam paysafecard account holders.
In addition to the aforementioned scam, paysafecard makes sure to warn its patrons for any other popular scams. This way you can avoid getting tricked into exposing your account details or PINs. On top of the high levels of security that paysafecard is ensuring, the company also makes sure to take steps towards protecting the information users are sharing. This guarantees that any sensitive data will be properly stored and third-parties will not be able to take advantage of it.
Advantages of paysafecard
If you are still unsure about whether paysafecard is the right payment solution for you, checking the pros and cons of the method will help you decide. If you are looking for a deposit option you can utilize at various sportsbooks, then you can rely on paysafecard.
Among the various advantages of this payment solution, the biggest one is the level of security it offers. Since many punters do not feel comfortable sharing sensitive information with betting sites, they often resort to deposits via paysafecard. This method allows them to make an instant transaction by simply entering the 16-digit PIN of the voucher they have purchased. By avoiding the need to share any details about their bank accounts or credit/debit cards, bettors remain anonymous while topping up their sportsbook balances.
The nature of the payment method prevents overspending which is definitely a huge advantage. Since punters are able to upload only funds which are available on their prepaid card, they will not be able to spend more than they have initially intended to.
Finding a location that sells paysafecard vouchers is extremely easy. In most European countries, almost any shop, gas stations or other retailers that offer all sorts of prepaid cards will also sell paysafecard vouchers. In some parts of the world, there are even vending machines which will allow purchasing your paysafecard PIN.
Once you have bought your vouchers, it is extremely easy to top up your betting account. In order to complete a paysafecard deposit, you will simply have to enter the PIN of your voucher and the amount you would like to upload to your balance. The good thing is that you can also choose to combine several PINs so that you can upload a bigger amount.
Another positive thing about this payment solutions is its speed. Deposits via paysafecard are instant which gives bettors the freedom to start betting as soon as they confirm their deposit transaction.
Since paysafecard is supported in various countries, there are numerous punters across the world that can use this deposit method at online bookies. It is a rather common payment solution which is why it is easy to find a trustworthy sportsbook where bettors can use it.
Disadvantages of paysafecard
While paysafecard ensures a pretty convenient payment service, it still has some downfalls. It is true that many betting sites accept deposits via paysafecard, however, this is not the case when it comes to cashouts. Since the service allows you to only top up your betting account, you will actually have to look for an alternative payment method when it comes to withdrawals. This is a bit disadvantageous for punters who are looking for a single payment solution for all of their transactions.
Another rather inconvenient thing about paysafecard vouchers is that you will actually have to buy them from a retailer before you can use them. What is more, you will have to use cash in order to get a voucher with a PIN that will allow you to make deposits at online sportsbooks. Considering that many people prefer to use their credit or debit cards when shopping, paying with cash could be considered a tad burdensome.
The downsides of this payment method are definitely not as many as the advantages. This is why many punters prefer to use paysafecard vouchers when they want to top up their betting accounts in a fast and secure way.
Conclusion
There are numerous virtual sportsbooks that accept deposits via paysafecard. This allows punters to choose a rather simple, safe and fast way to top up their balance and enjoy their real-money betting right away.
Acquiring paysafecard PINs is extremely easy and the deposit process does not require any additional information about a bank account or credit/debit cards. This gives bettors the chance to stay anonymous while depositing at online bookmakers.
While the payment process does not require registration, those who decide to open a my paysafecard account will enjoy various perks. In addition to that, there is a mobile app which allows you to scan the QR codes of vouchers, check your current balance and keep track of your money. Even though it cannot be used for cashouts, paysafecard remains one of the most preferred methods for punters to top up their sportsbook balances.