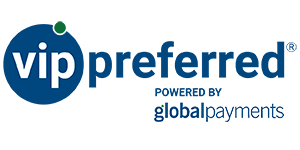 For a while, specifically from the 1990s and onward, US punters did not have it easy when it came to wagering on sports. In fact, prior to amendments to the country's sports betting law in 2018, the practice had been prohibited in the territory of the United States.
Things have significantly improved in recent years, however, and now, each individual state is free to decide whether or not betting on sports will be legalized within its jurisdiction. So far, several American states have embraced the practice, and more are to follow suit, so things are certainly looking up for bettors from the USA.
With the increase in sports bettors who can wager legally, comes the need for deposit and withdrawal options, and VIP Preferred is just what US gambling enthusiasts need.
VIP Preferred is an eCheck service widely used in gambling establishments all over America, online or land-based. It is utilized for Automated Clearing House payments and its services are available through the Global Payments Gaming Solutions platform.
What is more, VIP Preferred is not just a banking solution that can be used for deposits – withdrawing your funds via this banking method is also possible. This already puts VIP Preferred way ahead of many competing services.
You can also rest assured that the system is as safe as possible. The company behind VIP Preferred, Global Payments Direct Inc., has over two decades of experience in providing financial services to US customers and has enjoyed a stellar reputation throughout the years.
How Vip Preferred Functions?
Currently, VIP Preferred's usage is spread across more than 500 establishments across the United States, of which many are online websites dedicated to sports betting. This includes some recognizable big names like William Hill, 888sport, and Unibet. While VIP Preferred has a ways to go before we can say that it is absolutely dominating the American sports betting sphere, the payment solution's current reach is, nonetheless, an impressive feat. It is even available for deposit-related promotions at sportsbooks, which is greatly appreciated by gambling aficionados since this is something not all banking methods can boast about.
Much of VIP Preferred's popularity is owed to just how easy it is to use. This is a service that, basically, deals with issuing virtual checks, also referred to as eChecks. Bettors use unique IDs when they wish to deposit to and withdraw from their sportsbook balance, making the service quite secure and effortless in terms of usage. There is also a 7-day limit that can be modified by the sports betting enthusiasts who use VIP Preferred, which provides an excellent option for those concerned that their wagering habits might go out of hand at some point.
In addition, mobile compatibility is very important for the modern-day punter. More and more bettors opt for wagering when they are out and about, i.e. in between lunch breaks, or when they are stuck in traffic, due to the fact that everyone is now busier than ever. Thankfully, VIP Preferred can just as easily be used by sports betting aficionados on the go. Since it is included within the sportsbooks themselves, if a bookie has an application or is made to work and scale well on mobile websites, then you can be certain that VIP Preferred's services will work flawlessly on your smartphone too. In addition, if you ever fancy paying a visit to a brick-and-mortar gambling establishment, you can also download VIP Mobility and use it to fund your bankroll.
Opening an Account
If you wish to utilize VIP Preferred for your depositing and withdrawing needs, you must first enroll and thus gain the ability to use the service. It will not take long, and you will also be happy to learn that you need to undergo this verification process only once.
The first thing you will need to do is navigate to your bookmaker's website. You can find VIP Preferred under the deposit section, but if you cannot find the deposit page, you can look for the so-called cashier section of the website, which is where you will be able to find where you can deposit. Once you reach your destination, you can proceed with enrollment.
This involves providing the requested details so that you can connect your bank account to VIP Preferred. Furthermore, make sure to keep your driver's license, state ID, passport, or military ID handy since you will be required to input information from one of these documents in order to undergo verification.
This is the point at which you will have the opportunity to see your designated 7-day limit, and you will then be able to deposit funds into your account. With that, you are good to go.
Depositing to your Sportsbook Balance
With the help of VIP Preferred, depositing to your bookmaker account could not be any easier. The process involves logging in to your favorite bookmaker or creating an account if you have yet to do so.
Next, you must navigate to either the cashier section or the dedicated deposit page of your sports betting website. This will vary depending on your sportsbook, but either way, you can be certain that finding VIP Preferred will be a walk in the park. This banking solution is well-liked in America, and many US-friendly gambling websites take advantage of its services.
Once you are on the VIP Preferred section of the deposit page, you need to select your bank. All that is left to do is decide how much money you wish to deposit, confirm the transaction, and that is it. Your funds will be deposited into your sportsbook balance instantly, and you will be able to embark on your wagering journey immediately.
As previously established, it is necessary to have enrolled with VIP Preferred prior to depositing. In addition, keep in mind that your bank account must be US-based for the financial method to actually be available to you. This is due to the fact that VIP Preferred is under the control of the Global Payments company, so only bettors residing in the United States can take advantage of this eCheck processor's services.
In addition, remember to keep track of how much money you can deposit within a 7-day time period. In other words, you will have a personalized weekly limit to abide by, which will be dependent on your bank account balance and deposit history, so take care to not go over the shown sum. Furthermore, if you have either tighter self-imposed limits at your bookie, or the bookmaker itself has standard ones, then these limits take precedence.
Withdrawing from your Sportsbook Balance
If you were happy with the simplicity of the deposit method, you will be pleased to know that withdrawals conducted via VIP Preferred are even easier.
This time, however, you will need to keep in mind that verifying your sportsbook account is mandatory. This is done to ensure that the right person, i.e. you, will have access to your money. Luckily, verifying your identity is not too cumbersome for US punters. The process entails providing the bookie with identification documents, of which your state ID, military ID, passport, or driver's license are all valid options and can be used for this purpose. In certain states, however, you will be required to pay a visit to a land-based lounge, in person, to verify your identity.
Either way, the entire verification process will not take too much of your time, and it is important for increasing the security of your cash out transactions and sportsbook account in general.
On to the cash out process, it entails logging in to your sportsbook account, visiting the cashier, and navigating to the withdraw menu. From there, choose PayID, input the amount of money you wish to cash out, and you can start the process of transferring your funds to your bank account.
Unlike deposits, withdrawals are not instant, and your money will thus not reach your account immediately. The cash out request will need to be processed first, so you will generally have to wait between 1 to 5 days.
Cost and Fees
Fees have, historically and practically, always been a headache to deal with for even the most seasoned of bettors. Not only do you typically need to keep track of them, but they can easily sour your wagering experience if an unexpected one pops up.
In the case of VIP Preferred, however, punters can rejoice – there are no fees associated with VIP Preferred's services. Furthermore, the majority of US banks will not impose any fees on customers who use eCheck transactions. The only time you could encounter fees is if the bookie you wager at itself decides to introduce certain costs when punters deposit or withdraw money. The chances of this happening are unlikely, however. In general, the vast majority of US-friendly bookmakers will not charge you anything.
Security and Privacy
VIP Preferred is an excellent banking solution for privacy-conscious American bettors, or for US gambling enthusiasts who are, justifiably, extra concerned about security when it comes to their money. The company behind the service, Global Payments Direct Inc. is a strict establishment that considers the safety of its customers its utmost priority and makes sure to employ the latest advancements of security-related technology in order to ensure that no one's data would be compromised.
First and foremost, bettors will be happy to learn that by using VIP Preferred, they do not need to disclose their banking details with the sports betting websites they wish to wager at, seeing as a unique ID is used whenever you wish to deposit or withdraw funds.
Additionally, VIP Preferred also utilizes encryption technology to protect your data. Encryption entails that a piece of digital information is practically scrambled and thus rendered useless to potential attackers, and indeed, the process is as robust as it sounds.
Last but not least, VIP Preferred protects punters in another way. Although many will not be fond of this feature, the fact that you have a strict 7-day limit on how much money you can deposit is undeniably great for bettors who might be teetering on the edge of problem gambling. This limit is a great way to discourage over-spending, all in all.
Advantages of VIP Preferred
There is certainly much to like about VIP Preferred. It has been gaining popularity among gambling aficionados and sports betting establishments alike, and when we look at what the service has to offer, this development is hardly a surprise to anyone.
For one, it is one of the few payment solutions that are both eligible for sportsbook promotions, and offer a higher level of privacy. This combination is far from common, seeing as typically, you would need to choose between one or the other. For instance, bookies will often exclude convenient e-wallet services like Neteller for bonuses, but bank transfers, which require your information to be shared with a bookie to a certain extent, would be accepted instead. VIP Preferred offers the best of both worlds.
Speaking of security, the skilled team behind VIP Preferred makes use of the latest and greatest in terms of encryption and other software aimed at preserving the security of their users' financial and personal data.
This banking solution's availability is also an aspect that cannot be ignored. VIP Preferred can be used in an impressive variety of US-based online sportsbooks, which means that many American bettors can take advantage of its excellent services.
Also, the enrollment process is straightforward and simple. There are banking solutions that can be quite cumbersome to set up, with many confusing steps along the way, but VIP Preferred has managed to make newcomers feel at ease when they register their account with the service.
In addition, the speedy deposits are also an advantage. Even when you enroll for the first time, you will not be forced to undergo an initial wait period. Instead, you will have the opportunity to wager on your favorite teams immediately after you stock up your sportsbook balance with funds.
Last but not least, the fact that VIP Preferred is not only a deposit method but a solution that bettors can make use of for withdrawals as well should not be understated. Payment methods that can do both are a surprisingly rare find, and we certainly appreciate such solutions when we do manage to encounter one.
Disadvantages of VIP Preferred
Regardless of all of the positive aspects a service may have, all banking solutions tend to have their imperfections, and VIP Preferred is certainly no exception. Although this processor of online checks is an excellent option for most US punters, there are some things that need to be kept in mind.
First, bettors should be aware that VIP Preferred has strict 7-day limits on how much money you can deposit into your sportsbook account. These limits are imposed by VIP Preferred, hence, even if your bookie does not have any weekly limits and you have not opted to self-limit yourself, you will still be subject to these restrictions.
This is not an issue for most recreational bettors, but high rollers or gambling enthusiasts who do like to splurge from time to time should definitely be aware of this fact and plan their sports betting expenses accordingly. Furthermore, we need to reiterate that users can submit a request for their limits to be increased.
It is also worth mentioning that, depending on which sportsbook you like to wager at, you might fail to find VIP Preferred on the website. VIP Preferred is indeed popular, but although prominent bookies such as Unibet do provide it as an option and its influence continues to grow, not all bookmakers have taken to the service just yet.
VIP Preferred bettors can also fall victim to slower than expected withdrawal processing times. With some payment solutions, you would be looking at just a day or two at most when it comes to cashing out. However, with VIP Preferred, you will occasionally be forced to wait up to 5 days for your money to arrive in your bank account. This will not be a huge deal to many punters, but to some, it might prove frustrating to wait this long and could thus be a deal-breaker.
Lastly, it is also crucial to emphasize that VIP Preferred is a service that can be used strictly by bettors who reside in the United States. Even tourists who visit the country will not be able to take advantage of VIP Preferred's services due to the fact that an American bank account is required if someone wishes to use this processor of virtual checks.
Conclusion
With all things said and done, VIP Preferred is a competitive option when it comes to banking solutions. It was made to suit the needs of US gambling enthusiasts, and the ability to quickly deposit money into your bookmaker account immediately after becoming a user of the service is one of the aspects that showcase this quite well.
This processor's reliability is also impressive, and it is an incredibly simple and effortless-to-use solution that will allow you to relax and enjoy your wagering sessions to the fullest.
Moreover, the fact that utilizing VIP Preferred for one's depositing and withdrawing needs is practically cost-free due to the lack of fees, is also something many bettors would appreciate. Very few payment solutions are this punter-friendly, after all.
Although it is unfortunate that punters outside of the US cannot make use of what VIP Preferred has to offer, we are still happy to see that American bettors have such an excellent banking solution at their disposal.