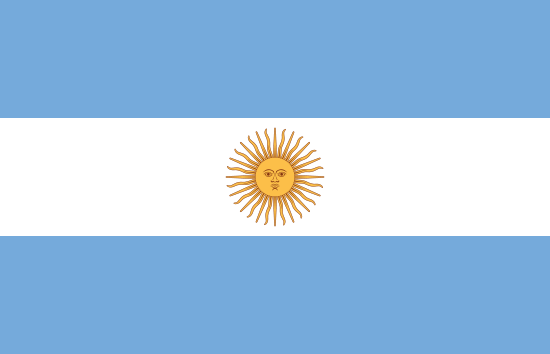 Argentina has a long and rich tradition of sports betting and gambling, with the first bets on horse races being placed back in the 1880s. After decades of shifting public views on gambling and changes in the legislation, the industry is now in a gray area and while some forms of gambling are completely legal and regulated, others are not permitted by law. Nevertheless, there has not been a better time for bettors who can enjoy access to various online betting platforms.
The popularity of soccer among Argentinian fans is legendary – it has become a religion for millions of people. But it all started with the first legal lottery in the 1810s shortly after the country declared its independence from Spain. The gambling sector grew immensely with the horse races at the Hipódromo Argentino de Palermo, which opened in Buenos Aires in 1876 and started taking bets from the thousands of people who flocked to the new and exciting establishment. Casinos started opening in the following decades while betting on sports became a common pastime for many Argentinians in the 1960s.
Compared to other countries in South America and across the world, Argentina has a more relaxed, common-sense stance when it comes to gambling and betting activities. What has been seen as controversial or even immoral for decades in many parts of the world, has been relatively well accepted by the general public here. This approach has led to the popularization of betting on soccer and of many other sports, although nothing truly compared to the status of this sport in Argentina.
In 1972, the National Lottery established the weekly betting game PRODE in order to promote sports in the country. In the game, people made predictions on the matches in Primera División, the top division soccer league in Argentina. It gained huge popularity for both soccer and sports betting, revolutionizing the nation's entire gambling industry. After several decades, however, in February the National Lottery along with PRODE were shut down. The Government issued a decree to dissolve the Lottery, as it was seen as no longer viable.
Betting on soccer and other sports has remained extremely popular among Argentines, although the lack of online betting-dedicated comprehensive legislation on a federal level has made it tough for operators to freely offer their services in all provinces.
Legality and Regulation of Sports Betting in Argentina
All forms of betting and gambling are available to customers in Argentina, although land-based operations are strictly regulated and there are serious restrictions in place, especially regarding operators. Online betting, on the other hand, is currently regulated on a provincial level and while some provinces allow such operations, others have not yet introduced laws regarding sports betting sites.
The Sports Forecast Law
Before delving into the complex legal matters of online gambling, we should look at the main law that had, until recently, dealt with organized betting on sports events and this was Law 25,295, Sports Forecast Law. The law allowed sports forecasts on the outcome of any sporting event, with the exception of horse racing.
Betting games and contests were offered and managed by the National Lottery, which meant that bets could not be taken by companies and corporations – all betting was provided and regulated by the state. This changed in February 2018, when the National Lottery was dissolved.
Current Legal Environment
Argentina has 24 independent gambling jurisdictions and each one of them treats online betting differently – some provinces allow online bets to be taken only by locally licensed operators, while other provinces allow betting operators from other jurisdictions, as well. The first online gambling licenses were issued in 2002 and the first online sportsbook license was granted in 2006.
In 2008, the Government through the National Lottery withdrew the license of local online gambling firm Formoapuestas. That same year, in an attempt for a crackdown on foreign betting sites, wagering on offshore betting platforms was banned. The ban, however, has not been enforced and currently, neither bettors nor operators are prosecuted or fined. Several offshore gambling and betting firms were forced to exit the market but overall, the prohibition has had a little impact on the industry. There are approximately 15 betting sites registered with Argentinian web addresses.
Another important aspect of the current legal environment is the taxation – there is a 25% tax on gaming machines, as well as a 22% Gaming Tax imposed on most gambling and betting operations. In January 2018, a VAT tax of up to 27% was proposed for offshore gambling and betting companies. But the Government has not introduced taxes on customers' winnings, whether they are generated in brick-and-mortar establishments or online.
Buenos Aires Starts Regulating Online Betting in 2019
In December 2018, lawmakers in the Province of Buenos Aires, home to the capital city of the same name, passed online gambling legislation for the first time. The measures that will pave the way for legalized casino games, sports betting, bets on horse races, and poker, were included in the 2019 Budget, which comes into force on January 1, 2019.
It is still unclear when the licensing process would begin but according to media reports, up to 7 online gambling licenses would be granted. Licensees would be required to establish a presence within the province and would be required to pay a 2% administrative fee to the Instituto Provincial de Loteria y Casinos, the local regulatory body, In addition, there will be 15 percent tax on GGR.
Argentina Sporting Events Coverage and Markets
As mentioned above, soccer has gained legendary status in Argentina and today punters can place online bets on a large number of soccer markets. All major national and international leagues and championships can be watched on TV and online, so bets are accepted on the English Premier League, the German Bundesliga, the Italian Serie A, and the Spanish La Liga.
Local operators also offer wagers on Superliga Argentina de Fútbol, as well as on the extremely popular UEFA Champions League and UEFA Europa League. Bets are also available on Argentina's most important derby, the Superclásico, a legendary match between the Boca Juniors and River Plate. Of course, Spreads, Money Lines, Over/Under Under, Player Props, Futures, as well as live bets are offered. Many betting providers would also have special Live Betting/In-Play Betting sections, supported by tips, statistics, and live streams of all major events.
Horse races are traditionally popular in the country, so all betting sites that cater to Argentinian bettors would offer bets on large racing events and cups. Sports wagering fans can also enjoy a large number of tennis markets to choose from, with ATP and WTA events being the most watched and wagered on. Interestingly, one of the most beloved sports in the country is boxing and Argentina has quite an impressive success in it with famous fighters over the past decades such as Carlos Monzon, Nicolino Locche, and Sergio Martinez. Bets can be placed on some of the biggest boxing matches and on various props, as well as on MMA fights, which are quickly also gaining popularity in the country.
Volleyball, rugby, field hockey, and basketball are also among the most watched sports in Argentina as the nation has produced many famous athletes in these sports. Betting sites also offer hundreds of markets and types of wagers that can be placed on major events and championships. Of course, all online sportsbooks, both local and international ones, give Argentina's fans the option to bet on golf, cricket, handball, sailing, auto racing, ice hockey, polo, and many others. Other sports that are also available to punters include baseball, football, winter sports, the Olympic events, cycling, snooker, etc.
Popular Odds Format in Argentina
The odds are an essential part of betting and understanding them well is the first step to becoming a successful bettor. The odds are a representation of the possible payout for a winning bet and they can come in several different formats, namely decimal, American, and fractional, which are mainly used in Ireland and the UK.
The most popular odds format in Argentina is the decimal form, which is probably the easiest to understand. It is commonly used across Europe, Canada, and Australia, but since many fans in Argentina typically bet on soccer, they tend to prefer this format, as well. Decimal odds represent the payout on a successful bet and are quite straightforward to calculate. If you bet $100 on 1.5 odds and you win, you receive $150, which is your initial stake of $100 plus the profit of $50. As you can see, these odds are easy to understand – the higher the number, the higher your potential profit.
Another format that is usually offered by betting sites in Argentina is the Moneyline, also known as American odds. They may seem quite complex at first glance, but are quite simple, being based on 100 units or $100. They can be positive or negative, depending on whether the team is the favorite or the underdog. In other words, these odds reflect whether the odds are better or worse than even.
For example, if the odds show -200, they indicate that you need to wager $200 to win $100. This will be equivalent to decimal odds of 1.5, where you bet $200 and receive $300, but the actual profit is $100. If the money line odds are better than even, they will be a positive number and will indicate how much you can win with a $100 stake. If you place $100 on a +300 odd, you will make a profit of $300.
Payment Solutions for Sports Bettors from Argentina
Online betting sites that are based in Argentina typically allow payments in the domestic currency, the Argentine peso (ARS). However, that is rarely the case with offshore sportsbooks and most betting fans who register on foreign sites would be offered various other alternatives such as American dollars (USD), Euro (EUR), and others. Some of the online platforms also accept Bitcoin and other cryptocurrencies, so bettors should be able to find a convenient option for themselves.
It is also incredibly important to choose a payment method that is safe, reliable, and fast. As customers in Argentina use a wide range of internationally available payment processors such as different credit and debit cards or e-wallets, they should find it easy to register their favorite deposit/withdrawal method when signing up at a betting site.
Credit and Debit Cards
Sportsbooks in the country offer some of the most commonly used credit and debit cards in the world, including Visa and Visa Electron, Mastercard, Maestro, and American Express. These cards are issued by various banks in the country, so they are widely available and can be used for both online and in-store purchases, paying bills, shopping, and online betting. Customers can choose from a wide variety of credit and debit cards, but these brands are also known for their prepaid and travel cards.
Of course, each card comes with different annual or monthly fees, but generally, depositing and withdrawing from betting sites is usually free of charge. Bettors should know that while deposits via credit and debit cards tend to be instant, cashing out to the same card may take between 1 and 3 business days. In some cases, the processing time for such transfers can reach 5 days. Another thing punters should bear in mind is that Mastercard-branded cards may not always be available for withdrawal. In this case, bank transfers are usually offered by the betting site.
Digital Wallets
Digital wallets are electronic payment methods that function as wallets, hence their name. Also known as e-wallets, they are incredibly convenient because registration is straight-forward, they are easy to use, and there are only tiny fees that need to be paid. Various e-wallets are available to Argentine bettors and while some of them are used only to store and transfer money, others are much more similar to our actual, physical wallets – they can store banking information, credit card, data, and transaction history.
Most betting sites targeting Argentine punters would offer them deposits and withdrawals to be made via PayPal, Skrill, and Neteller. The transactions are safe and the deposited funds appear in your betting account within a minute or two. Withdrawals, on the other hand, usually take up to 24 hours to move from the online sportsbook to the e-wallet. One thing to consider, however, is that usually, PayPal can be used for deposits, while withdrawals from betting or gambling sites may be canceled.
Instant Bank Transfers
Instant bank transfers are also available to many bettors in Argentina, although most of them can be used only by account holders at a specific bank or banking group. These payment systems function as intermediaries between banks and retailers (online bookmakers in this case) and allow bettors to make instant deposits directly from their banking accounts. At the same time, the bank does not cancel the transaction, which is sometimes the case with gambling-related transfers.
The best thing about this payment method is that it allows instant depositing into betting sites, with no additional fees involved. Withdrawals are also relatively fast, although this may depend on the particular bank and take up to 3 or 4 business days. Popular instant bank transfer services include GiroPay, Euteller, Trustly, Sofort, and Multibanco but customers need to have bank accounts at banking institutions outside Argentina.
Other Payment Methods
Most online sportsbooks also offer their customers to deposit or withdraw their winnings using wire transfers, online banking, and prepaid cards. For instance, many of the large betting platforms accept Paysafecard, which is an internationally available prepaid card and can be used for shopping and online betting. Depositing is easy and instantaneous, but withdrawals are not available. Another great option that allows both deposits and withdrawals is EcoPayz, an electronic payment system that combines several options, namely a single-use virtual prepaid card, an e-wallet, and a debit card-like service.
One of the most convenient and commonly used prepaid payment services in Argentina, however, is AstroPay. The AstroPay card is available all over Latin America and is a wonderful solution for gambling and betting fans who wish to deposit safely and quickly. Another great option for those who want extra security and even anonymous payments over the Internet is Bitcoin. Some of the best betting sites that cater to customers in Argentina offer Bitcoin payments – they are fast, low-cost, and completely safe.
Bonuses and Rewards for Argentine Sports Bettors
In order to stay competitive, betting sites come up with various ways to attract new customers and keep them interested. They would typically reward them with free bets and sign-up bonuses, as well as various loyalty programs. Just like betting fans all around the world, Argentine sports bettors can enjoy a wide range of bonuses and other promotions offered by online bookmakers.
One of the most common bonus types is the Welcome or Sign-Up Bonus, which is usually given upon making a deposit for the first time. At least two varieties of this offer can be found and the first one is a free bet that is typically worth from $10 to $50. Of course, every betting site sets its own bonus terms and requirements, but often, the free bet bonus does not have to be wagered. Some bookmakers would offer it for a specific game or sporting event, while others would allow the free bet to be used on any match or competition. In addition, this bonus is usually given for certain types of bets (singles, money lines) and there would be minimum odds specified.
Other betting sites, however, would match the customer's first deposit up to 100% and would allow the bonus to be used for any sporting event on offer. Still, these bonuses cannot be used for any of the other gambling products that the betting operator may offer such as casino games, poker, bingo, or live dealer games. Bettors should also check whether there is a minimum deposit amount that qualifies them for receiving the deposit bonus – usually, there is. Most betting platforms would limit the amount the bonus that can be taken to, let's say, $100, $300, or even $1,000. The bonus would also be subject to some rollover requirement – its amount would need to be wagered a certain number of times (x5, x10, or even x20).
There are plenty of other promotions, available to Argentine sports bettors – some bookmakers would boost the winnings of a successful bet, others would offer guaranteed cashback on all loses. Another promotion that can be found often in betting sites is giving special odds on a specific match or another sporting event. Loyalty programs are also quite popular and are designed to reward the most active bettors – the more you wager, the more loyalty points you receive. Then, these loyalty points, also called comp or reward points, can be redeemed for cash.
Customer Support at Argentine Sports Betting Sites
Recognizing the popularity of sports and sports betting in the country, an increasing number of online sportsbooks are accepting Argentinean bettors. The large, well-established bookmakers are providing reliable customer support around the clock. Apart from being professional and friendly, however, the support staff should also be fluent in Spanish in order to cater to Argentine sports bettors.
Many websites are, therefore, available in Spanish and providing their members with Spanish-speaking support professionals that can be reached by email, phone or live chat.
While this is true for the local sportsbooks and some of the largest international operators, it does not apply to all offshore betting sites available in Argentina. Many bettors would need to be fluent in English in order to use their services.