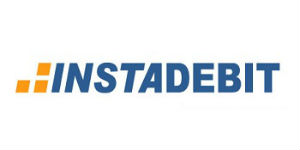 InstaDebit is a Canadian payment services company that has its operations headquartered in Toronto, Ontario. Launched in 2004, InstaDebit is intended as a payment gateway that allows customers to transfer money and pay for online purchases by using their local banks' online banking services. However, it eliminates the need of sharing one's personal details and banking information with the online merchants.
The method ensures quick, anonymous, and hassle-free transactions so it makes sense it has become a preferred banking solution for many Canadian sports bettors. The payment gateway is available exclusively to customers from Canada and supports money transfers in two different currencies, the local CAD and the USD.
Unlike most other methods that operate on the basis of online banking, InstaDebit can be used for depositing as well as for withdrawing from your sports betting balance. The method is highly efficient and very secure since it uses sophisticated encryptions to protect your payments. Safety is further consolidated by the fact all InstaDebit money transfers are monitored by major security certification companies like TRUSTe and VeriSign.
InstaDebit is accepted by all leading online bookmakers that welcome betting action from the Great White North. If you are interested in using it for online betting purposes, take a look at the following article where we discuss all you need to know about using InstaDebit, from the registration and the processing of deposits/withdrawals to security and costs.
How InstaDebit Functions?
Firstly, we would like to make one thing clear – InstaDebit does not operate as a digital wallet as such. Instead, it functions as a third-party payment gateway that serves as an intermediary between Canadian bettors and their local banks.
The method relies on online banking and to use it, you are required to hold a savings or a checking account with one of the supported Canadian banks. This enables you to make payments to your preferred online sportsbook without disclosing any of your information to third parties, or in this case, to your betting operator.
InstaDebit simply links you to your online banking account. All the details concerning the money transfer are kept safe between you and the bank you hold an account with. Some of the Canadian banking institutions that work with InstaDebit include TD Bank, the Bank of Montreal, the Imperial Bank of Commerce, Scotiabank, the Royal Bank of Canada, and the National Bank, among others.
The specifics of this payment solution enable it to ensure prompt money transfers that are exceptionally easy to conduct. The sportsbook you are transferring money to receives the confirmation of your payment in real time, so there are no waiting times – the funds are instantly credited to your sports betting balance.
To use InstaDebit for online betting purposes, punters must be 18 years old or above and provide the last four digits of their SIN (Social Insurance Number). This helps confirm their identity and ensures the safety of their money transfers. It is necessary to register for an InstaDebit account in order to use this method.
Another great thing about this payment solution is that you can test how it works during your first InstaDebit deposit at an online sportsbook. In other words, you can set up an account during your very first check-out and use it right away.
This is not the case with e-wallets like Skrill and Neteller, for example, where you must first sign up, top up your balance, and verify the account before you are able to benefit from all features and increase your spending limits. Read on for more details on how to register for an InstaDebit account.
Opening an Account with InstaDebit
Signing up for InstaDebit is a quick and very straightforward process. You can do it during your first sportsbook deposit or pre-register on InstaDebit's website if you feel like it. During registration, you must fill out a brief sign-up form where you enter some of your details like your name, email address, and the last four digits of your Social Insurance Number (SIN).
Your birth date is also needed because it enables InstaDebit to verify your age (individuals under 18 have no right to use the payment gateway's services). Part of your Social Insurance Number, on the other hand, is required because InstaDebit needs to confirm your identity. This helps prevent money laundering and other illegal practices.
Since InstaDebit is, in essence, a mediator between the bettor and their financial institution, providing some information about your checking or savings account is also necessary during registration. This includes filling out your five-digit bank transit number, the three-digit number of your bank, and the twelve-digit number of your personal bank account.
You can find all this information at the bottom of an old check. If you do not have one at your disposal, you can always contact your bank and request them to provide you with the necessary details.
After you set up your InstaDebit account, the payment company will process a deposit (typically under C$2) to your checking or savings account. The exact amount credited to you will show up on your bank statement within five days after registration.
The whole purpose of this is to help you verify your bank account. This would also enable you to increase your spending limits and make withdrawals. After you receive this small deposit, you are supposed to sign into your InstaDebit account, navigate to the Verify Bank Account section, and enter the amount you were credited with (the exact amount is known only to you).
We recommend you register for InstaDebit with the same email you have signed up for your online betting account with. Some sportsbook operators decline processing payments if the two emails do not match.
Depositing to Your Sportsbook Balance with InstaDebit
InstaDebit is the preferred method of many Canadian punters because it enables them to conduct easy deposits to betting sites in real time. You simply must head over to an online sportsbook that supports this method, register (or directly log in if you have an existing account), and open the cashier where you click on InstaDebit.
The system will prompt you to select your desired deposit amount before it redirects you to the website of InstaDebit where you need to log in (or initiate the payment as a new customer and register during the check-out). You follow all the instructions to validate the money transfer and that is it. Your sports betting balance is updated within seconds because InstaDebit processes payments in real time.
It is impossible to divide one sportsbook deposit between two or more different bank accounts. Each punter is allowed to link only one bank account to their InstaDebit. Other than that, most reliable betting sites that welcome punts from Canada do not charge their customers for deposits conducted via InstaDebit. That being said, there may be additional online banking fees on behalf of your bank so make sure you consult one of its representatives for further information on their charges.
You can process payments in two different currencies with this method, CAD and USD. Both currencies are widely supported by online bookies so you are unlikely to incur extra fees for conversion.
Withdrawing from Your Sportsbook Balance with InstaDebit
Many sportsbooks that work with InstaDebit would support it for withdrawals as well as for deposits. As there are exceptions to every rule, very few betting operators would return the withdrawals of InstaDebit depositors via standard bank transfers so keep that in mind and check with customer support to ensure the method is available for both deposits and withdrawals.
Apart from that, InstaDebit withdrawals are conducted the same way as deposits, only in this instance, you are on the receiving end and are credited with the money. You tap or click the balance icon after logging into your sportsbook account, enter the sum you want to cash out, and confirm the withdrawal request.
Withdrawals with InstaDebit are not processed in real-time, which can be explained with the fact sports betting operators require some time to approve the withdrawal requests. In many cases, you have the option to reverse the request while it is still being processed and continue betting with it.
Processing times are different depending on which sportsbook you punt at but the pending timeframes rarely exceed 48 hours. Once the money is released from your sports betting balance, it typically reaches your InstaDebit account within 5 working days. From there, you can transfer the winnings to your savings or checking account.
Many trusted sportsbooks absorb the fees associated with InstaDebit payments so that punters are not charged additionally when using it. However, we recommend you to err on the side of caution and check the sportsbooks' terms and conditions for further information on their withdrawal policies in order to prevent unpleasant surprises.
InstaDebit Cost and Fees
One of the main benefits of choosing InstaDebit as a sportsbook payment method is that it is void of exorbitant service fees. Sports betting operators normally exempt customers who use this banking solution from any extra charges.
The processing costs are largely covered by the betting operators themselves. This renders InstaDebit a very affordable payment gateway especially if one wagers on the internet only casually for smaller stakes.
Some nominal fees may apply in certain situations, though. For example, if you are making payments to online merchants directly from your bank account, you will be charged C$1.95 for the transfer. But as we said, most online sportsbooks cover these costs for you. Additionally, there is a C$2 fee when you withdraw money from your InstaDebit balance to your personal bank account.
You may also incur extra charges on behalf of the bank you hold an account with. This usually happens when you initiate a transfer without having a sufficient amount of money in your bank account's balance to be able to cover the transaction.
However, the fees on NFS (Non-Sufficient Funds) transactions are imposed by your own bank and not by InstaDebit itself. To prevent this, you may simply check whether your bank account's balance is sufficient before you initiate the deposit.
As we previously explained, InstaDebit allows for borderless payments in two currencies only, USD and CAD. Therefore, if your sportsbook account uses any other currency, you will have to pay a premium for the currency exchange service.
Security and Privacy
InstaDebit is an exceptionally safe way to transfer money to and from your online sports betting account. The specifics of this method eliminate the need of sharing any banking information with your online sportsbook. There is no need to enter any long card or bank account numbers during the deposit or withdrawal process.
In fact, there is no need to even own a credit or a debit card to use InstaDebit. The method functions as an intermediary so all your sensitive details are kept safe between you and the bank you hold an account with. InstaDebit itself never discloses any of your banking information to online merchants, or in this case, to the online bookies you are punting with.
The InstaDebit platform is safeguarded with sophisticated 128-bit SSL encryptions which mask all the information so that it is safely transmitted to and from the website and thus, well-protected against frauds.
Also, all money transfers conducted via the InstaDebit gateway are strictly monitored and regulated by the world's top certification companies TRUSTe and VeriSign. An additional security layer is added by the identity verification each InstaDebit customer undergoes during the sign-up process. The combination of your SIN's last four digits and your date of birth helps protect you and your funds.
You cannot verify your account without knowing the correct amount InstaDebit has deposited into your bank account for identity confirmation purposes. Since this sum appears on your bank statement, you are practically the only person who can see it and use it to complete the verification successfully.
Advantages of InstaDebit
The most obvious advantage of using InstaDebit is that it enables you to make deposits directly from your checking or savings account, eliminating the need of using credit or debit cards. This is not the case with e-wallets like ecoPayz, Skrill, and Neteller where you must register and then top up the e-wallet's balance before you initiate a deposit. With InstaDebit, the money is transferred directly from your personal bank account.
Simple to use and does not require a credit/debit card
Allows for quick and easy payments
Available for both deposits and withdrawals
Highly secure and anonymous
Accepted by many trusted betting sites
Very affordable to use
The ease of use is also an important factor to consider. InstaDebit allows you to process a successful payment in a few quick steps that require seconds to go through. Registration is also very simple, free and easy to complete. You can even register when you process your first sportsbook deposit.
Another benefit stems from the fact that most betting operators accept InstaDebit for both deposits and withdrawals, sparing you the hassles of having to look for an alternative banking solution when cashing out. In contrast, similar payment gateways like Trustly or iDebit (also based on the principle of online banking) allow for deposits only and punters have their winnings returned to them via regular bank transfers, which are among the most time-consuming ways to cash out.
InstaDebit offers exceptional levels of security and anonymity. Punters do not give away any banking information with this method, or at least not to third-parties like their betting operators. InstaDebit further boosts its security levels by implementing state-of-the-art encryptions. It also boasts the trust seal of TRUSTe.
The method is quite affordable to use since it does not involve any fees on deposits and withdrawals to and from your online sportsbook. Whatever additional charges are in place, they are quite reasonable and will not dent your sports betting bankroll.
Last but definitely not least in terms of importance comes the fact InstaDebit is a very accessible payment method that is accepted by many betting sites. If you intend to use it, you will be able to compare different sportsbooks and choose the ones offering you the best odds and the most lucrative promotions.
Disadvantages of InstaDebit
InstaDebit has relatively few disadvantages, especially in comparison to the numerous benefits it offers to online sports bettors. One big problem that arises has to do with the fact the method can be used only locally by bettors who reside in Canada and respectively, have accounts at the Canadian banks working with InstaDebit.
Available only to punters who hold accounts with Canadian banks
Requires a bank account
Some punters frown at the necessity of registering an InstaDebit account
When InstaDebit first gained traction among online bettors around 2004, it expanded its operations to more than thirty countries worldwide and was also available on the US market. However, when the US government approved UIGEA (as part of the SAFE Port Act) in 2006 and banned the transactions to remote offshore betting operators, InstaDebit had no other option but to withdraw its services from the country.
Since the US market constituted a significant portion of the operations of the Canadian payment processor, the overall international performance of InstaDebit took a huge hit. Other payment solutions like Skrill, PayPal, and Neteller dominated the European online betting landscape and there was simply no room for InstaDebit there. The company has been servicing only Canadian customers ever since.
That is not to say it is entirely impossible for punters from other countries to use InstaDebit. They can do if they have accounts at Canadian banks. However, this is neither practical, nor probable since there are lots of other, more suitable, payment methods bettors from other locations can use.
Registration may be deemed an unnecessary nuisance by some sports bettors. As hassle-free and quick as signing up for InstaDebit is, there are other alternatives like iDebit, Paysafecard and Neosurf that do not require registration. So this may be considered a minor disadvantage. Also, the use of InstaDebit is invariably linked to the necessity of having a bank account. Respectively, punters who do not hold savings or checking accounts will not be able to deposit or withdraw with this payment solution.
Conclusion
InstaDebit is undoubtedly a convenient method of conducting payments to and from your sports betting account. The method is easy on one's budget but more importantly, it spares you the need of giving out any sensitive personal or banking details or of using credit/debit cards. It facilitates real-time money transfers and most online sportsbooks support it for both withdrawals and deposits.
The only downside of this flexible payment solution stems from its limited accessibility. The necessity of being an account holder at a Canada-based bank renders InstaDebit a viable option only for punters from the Great White North. However, if you are a Canadian who loves to punt online, you most definitely should check InstaDebit out. Chances are you will not regret it.